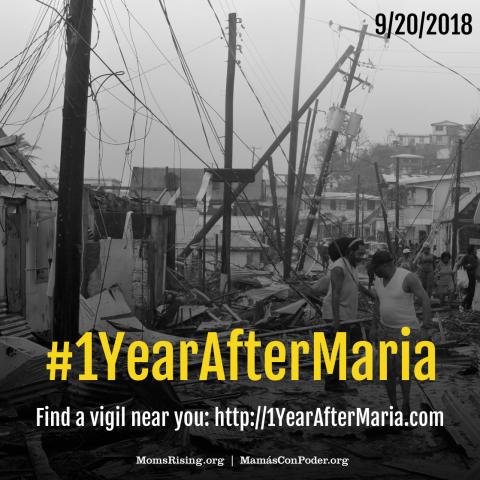 4 Ways You Can Support Recovery Efforts in Puerto Rico
On September 20th 2017, Hurricane Maria tore through communities in Puerto Rico, devastating the Island. Maria knocked out 100 percent of the electrical grid, and 95 percent of cellphone towers in Puerto Rico, triggering a collapse in emergency communications. A federal report found that FEMA staff were not ready to support recovery efforts in #PuertoRico, including not having enough bilingual employees to communicate with local residents or translate documents. While officials initially attributed 64 deaths to the storm, the humanitarian and administrative crisis on the island led to thousands of deaths. A report from George Washington University showed 2,975 excess deaths in Puerto Rico in the six months after Maria's landfall. 
On September 20th, 2018, #1YearAfterMaria, we stand together to remember those that were lost with a unified display of solidarity with Puerto Rico, and those on and off the island. And at this very moment, no matter where you are, there are actions YOU can take to help support a #JustRecovery for the island.
We've listed below the top actions you can take immediately to make a difference. Please share this post widely!
1. Sign This Petition: https://action.momsrising.org/sign/one-year-later-hurricane-maria/
And join our Spanish language action arm, MamásConPoder for updates on the #1YearAfterMaria campaign: https://action.momsrising.org/signup/Informado/
Why do petitions matter? With petitions, people come together to raise one collective voice, and that voice is amplified with each signature!
2. Call Your Elected Officials
#1YearAfterMaria, residents in Puerto Rico are still fighting to rebuild and often the most difficult hurdles they face come in the form of tepid federal response and bureaucratic red tape. Tens of thousands of Puerto Ricans have been forced to leave the island and have resettled in Florida, Connecticut, Massachusetts, New York, New Jersey, and Pennsylvania. Call your member of Congress today and urge them to stand with Puerto Ricans on the Island, and to support resettlement efforts of those who have been forced to move.
Call the Capitol switchboard (202) 224-3121, let them know you want to talk to a member of Congress representing your city and state (there is one House Representatives and two Senators who represent each constituent), and then you can say something like:
"I am a constituent, and I ask you up to support Puerto Ricans on the island, and to support resettlement efforts of those who have been forced to move."
3. Host or Attend a Vigil or Action in Support of Puerto Rico
On Sept 20th, 2018, people across the country will be hosting vigils to show solidarity for Puerto Rico. You can find more information on how you can host or attend a rally at the link: http://bit.ly/1yearaftermaria_hostevent
4. Donate to recovery efforts
A number of established charities have been working to support recovery efforts on the Island. These efforts are best supported with cash donations as material donations like food, clothing and supplies tend to require transportation, which is expensive and can present logistical challenges.
When donating funds, it's best to go directly to the charity's website and set up a payment from there. Some of the larger organizations to consider are:
You can find additional ways to donate on Charity Navigator, which has a list of highly-rated organizations providing assistance to Puerto Rico. Donors can designate their donations to the cause on the organization's website.