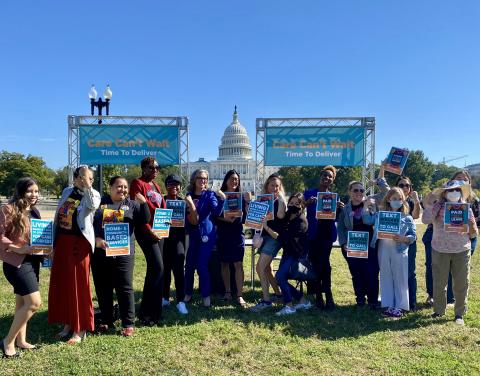 3 Things You Can Do TODAY to Encourage Congress to Pass the Budget Reconciliation Package
Advocates and champions, including members of Congress and leaders, came together at the PowerUP Build Back Better with Care Rally on October 21st to support the care agenda. That agenda includes Paid family/medical leave, child care, home-and community-based services for older people and people with disabilities, a fully refundable Child Tax Credit (CTC), living wages and a path to citizenship for all care workers in the reconciliation package. During the event, we shared stories that lifted the urgent need for a care infrastructure to lift businesses, families, and our economy. 
At the PowerUP Build Back Better with Care Rally, we heard many voices with one principal message: A care plan is an infrastructure plan and we need it NOW. 
Call the Senate 1-855-408-2357
Use our tweet tool that lets you send a customized tweet to YOUR lawmakers
"Care is the foundation of our economy." - Rep Debbie Dingell