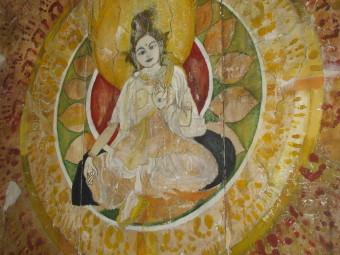 3 (surprising) reasons I keep doing yoga
This weekend I was on the massage table when out of the blue my therapist asked, "What do you do to heal when someone close to you dies?" I thought for a moment–having experienced a lot of loss in my family–and answered, "I do yoga." I have found conscious movement and breathing–experienced through practices like yoga, qi gong and Nia–have had a profound effect on my emotional well-being and have helped me to feel to heal (read more), more than anything else.
I was raised by yogis and introduced to yoga (ok, forced to do this!) at age 10. For years in my mid-late twenties I did yoga once a week at a studio, enjoying the health and stress management benefits. But in 1995 I began to embrace the more subtle gifts that come from this ancient practice which has now become mainstream (34 percent–about 80 million–of Americans say they are somewhat or very likely to practice yoga in the next 12 months).
Why would a busy entrepreneur with a global business and an active family, carve out time each day for downward dogs? At age 50, I have experienced tremendous benefits from yoga–which means to yoke or unite–but what keeps me coming back to the mat time and time again is this practice:
• helps me feel more spacious on the inside. Sat. a.m. my teen was arguing relentlessly with me, but after my hatha class and an hour of Ujjayi breathing, I returned to my family more centered, relaxed and the "triggered feeling" was gone. Yoga allows me to more easily be with what is.
• reminds me that my problems aren't mountains, they're molehills. After practicing, I reclaim a 30,000 foot perspective which supports me in being more aware, compassionate and clear.
• uncorks my well of creativity. This blog post pretty much wrote itself in the last moments of my yoga practice. Many of my best ideas-and all my books-have come to me effortlessly while I'm holding pigeon or in triangle pose.
I could go on and on about the gifts that I have received from a regular yoga practice--a happier disposition, a kinder relationship with my sweet body, an openness to inquiry and an abiding curiosity–but more than anything, when I do yoga I remember who I really am and that everything is perfect just as it is (read more).
I challenge you to try a class or do more yoga (ideally at a yoga studio as opposed to the gym-they're different, I promise). If you already like yoga, increase your frequency, create a home practice or try another form and do it differently (I love it all: Kundalini, Hatha, Vinyasa, Yin or Restorative and iRest-one of my favorites). Here's an explanation of the different  types of yoga; this site  also has some good free yoga videos. Totally new to yoga? Here's a great overview for beginners. Live in Austin, TX, check out the upcoming Sept. 5 Free Day of Yoga Schedule.