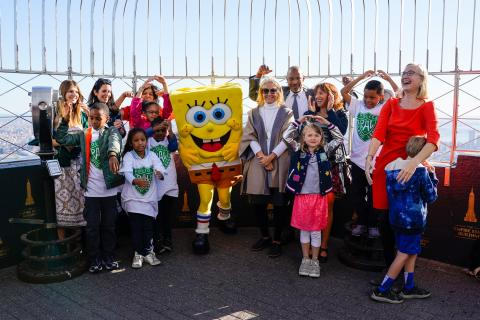 20 Years of Turning the Lights On for Afterschool
For 20 years, the Afterschool Alliance has been organizing a celebration and rally for afterschool programs each October. Moms lead the way on these events, because they know how important it is that their kids have safe, supervised, educational activities each afternoon, after the school day ends. Yesterday, on the 20th anniversary of the extraordinary event we call Lights On Afterschool, there were 10,000 events across America and at U.S. military bases worldwide.
At a Knoxville, Tennessee afterschool program, students explored what to do about a simulated oil spill and how to use robotic balls to unclog drains.
In Harrisonburg, Virginia, students joined a Roundtable discussion with the mayor, police chief and state secretary of education.
In San Francisco, they screened an original musical titled "Escape to Llama Island" for their audience.
In Philadelphia, they created Halloween-themed stories to promote literacy.
In Carmel, Indiana, they carved, decorated and – yes, smashed – pumpkins.
To show their support, communities across the country lit up landmarks for Lights On Afterschool last night. From the Empire State Building to the Orlando Eye to the Pennsylvania State Capitol to the Superdome to the Spirit of Detroit to city halls from Hampton to Houston to San Francisco, landmarks across the country lit up in yellow and blue to celebrate and support afterschool programs. Clear Channel donated billboard space to afterschool in Times Square and across the country.
Lights On Afterschool has grown and deepened over time. Twenty years ago, it was small. Yesterday, we estimate that a million students, parents, educators, business and faith leaders, policy makers, community members and others came out to schools, parks, campuses, state capitols, city halls, museums, malls, and other venues to show their support. People are motivated to rally for afterschool because they know how valuable these programs are and that without them, students would be unlikely to get the homework help, mentoring, robotics and computer instruction, healthy snacks, exposure to arts and music, college- and job-readiness and opportunities for critical thinking that they provide.
Despite their tremendous value, afterschool programs are badly underfunded. Research shows that for every child in an afterschool program today, two more are waiting to get in. And things could get worse instead of better, as President Trump has recommended ending federal funding for afterschool and summer learning programs again this year. We don't expect Congress to do that, but any cuts would mean fewer students in afterschool programs, more worried moms and dads, and more kids unsupervised after the school bells ring and until parents return home from work. We should be talking about how to increase the number of afterschool programs, not whether (or by how much) to cut them.
Powerful new evidence about the value of afterschool emerged last week when Fight Crime: Invest in Kids – a part of the Council for a Strong America – released a report documenting positive outcomes for children and teens who participate in high-quality programs. "From Risk to Opportunity: Afterschool Programs Keep Kids Safe" shows that the hours immediately following school remain the prime time for juvenile crime. The report found that FBI data show spikes in crime from 2:00 to 6:00 PM. The report says afterschool programs are one of the best crime prevention strategies and an effective way to guide young people toward success in school and readiness for productive careers.
We agree. So we'll keep fighting for afterschool funding, until every child and family has access to a program. It's what moms, kids and our country need!