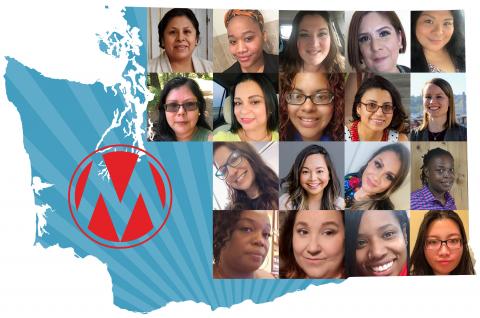 18 Washington Caregivers Who are Changing Our World
To mother is to transform. Each and every day moms are shaping a more just future for us all through small and big acts alike -- whether it's helping a tantruming toddler understand their feelings or advocating for their community with elected leaders, moms have superpowers that move us all forward.
Here in Washington State, and across the country, the COVID-19 crisis has illuminated for us all what many Black, Indigenous, and People of Color (BIPOC) families have long known: budgets, policies, and programs continue to perpetuate harm and inequitable and disparate opportunities for families. To #RecoverTogether from the devastation of COVID-19, we must put budgets, policies, and programs to work for ALL working families. 
That's why MomsRising and MamásConPoder are thrilled to announce the second cohort of the bilingual Washington MomsForce Fellowship. WA MomsForce Fellows will use their superpowers to help fuel Washington's recovery from COVID-19 and to envision a future that makes the most of the resilience, power, and strength of our diverse communities. The 18 MomsForce Fellows for our second cohort are:
Christianna Clinton of Oak Harbor
Cyntia Bruno de la Mora of Yakima
Eddy Xiomara Negron Rodriguez of Prescott
Gabriela Villagomez-Morales of Tacoma
Immaculate Ferreria of Sumner
Karina Vega-Villa of Wenatchee
Kate Ginn of Tacoma
Kenya Jones of Federal Way
Leah Coakley of Tacoma
Linet Madeja-Bravo of Covington
Maria del Socorro Garcia of Prescott
Martha Rodriguez of Renton
Natasha Fecteau of Poulsbo
Nijhia Jackson of Bremerton
Reshonna Booker of Seattle
Scarlett To of Maple Valley
Shereese Rhodes of Kent
Silvia Gonzalez of Everett
Over the next year, these remarkable moms will build solidarity, power, and capacity in their local communities. They will capture the strength of their experiences as mothers to advocate for investments and policies that meet the unique needs of their communities, and they will make sure that policies that have passed into law are delivering on their promises -- all with a focus on meeting the needs of families most directly impacted by racism, poverty, and other forms of oppression, first. 
Together, WA MomsForce Fellows will share their stories related to early learning and childcare, tax justice, paid family and medical leave, and other policies that, all together, form the essential building blocks for healthy and thriving children, families, and communities. 
Nobody knows the needs of families quite like moms. And nobody can inspire change quite like them either. These 18 moms might not wear capes, but they're certainly powerful and they're ready to change our world!