14 states don't even have one?!
Here's a story that gets us in the heart: When MomsRising member Cristi of Bothell, Washington gave birth to her first child, she planned to breastfeed. But when her son's blood sugar level dipped shortly after birth, the hospital directed her to feed him formula. Unfortunately, the hospital's nurses and doctors didn't give Cristi any information about ways she could keep her son healthy and get back to exclusive breastfeeding as she hoped to do.
As a result, after only using a bottle for several days, her son would scream and cry every time Cristi tried to breastfeed and they never did get back on track.  Determined to give him breast milk, Cristi committed to the challenge of pumping breast milk for bottles for the next year.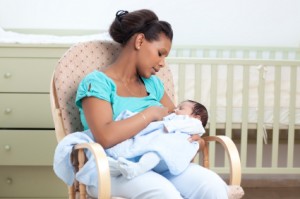 Resolved to have a different experience when she had her daughter, Cristi talked to moms she trusted and found a hospital nearby that had a great reputation for supporting breastfeeding because it was "Baby-Friendly". (Learn more about what a "Baby Friendly" hospital is below and why it matters to everyone!)
Unfortunately, most women don't have this option.  Right now, only 36 states have at least one Baby-Friendly facility and many only have one.  As a result, only about 6% of babies are born in Baby-Friendly facilities today.
Thankfully, change is underway and we can help speed it up!  Kaiser Permanente, one of the country's largest health care providers and not-for-profit health plans, recently announced that by 2013 all of their maternity hospitals will be designated as Baby-Friendly or follow procedures outlined by The Joint Commission Perinatal Care Core Measures program to better support mothers to exclusively breastfeed.  That's great news and together, we can get other hospitals to do the same!
Join us in publicly saying, "Thank you!" to Kaiser Permanente for taking this important step to support moms who want to breastfeed.  Sign on to our "Thank you"card now.
By publicly thanking hospitals that become Baby-Friendly certified, we will encourage other hospitals to follow their lead. Kaiser Permanente is one of the biggest "big fish" in the health care world so recognizing and appreciating their commitment will get noticed. Kaiser's commitment is a critical step towards giving mothers and babies excellent breastfeeding support and paving the way for other hospitals to do the same.
What is a "Baby Friendly" hospital, anyway?
While many hospitals offer many "baby friendly" practices and are very supportive of breastfeeding – the Baby-Friendly designation ensures that the facility has policies in place that direct staff to work together to listen to moms and actively support moms to be able to breastfeed. This process ensures that a facilitity's commitment to breastfeeding doesn't depend on one nurse or doctor's support – but it's a system-wide commitment that will endure and that new mothers can count on.
Reflecting on her experience at her local Baby-Friendly hospital, Cristi shares, "The support was amazing. The lactation consultant I saw after delivery was patient, calm and helpful… they helped me get my daughter latching properly. I'm very proud that I stood up for myself, switched hospitals when I knew what I needed."
Why is this important for all of us - even if our baby days are over?
Kaiser Permanente created its Baby-Friendly commitment in partnership with the Partnership for a Healthier America, an organization dedicated to working with the private sector to ensure the health of our nation's youth by solving the childhood obesity crisis.  Research shows that breastfeeding for 9 months reduces a baby's odds of becoming overweight by more than 30%. At a time when 1 in 5 preschoolers are overweight, this link shows why breastfeeding is a critical component to prevent youth obesity.
Together we can encourage other hospitals to become Baby Friendly too!
Click here to add your name to our "Thank You" card that we'll deliver to Kaiser Permanente leaders in appreciation of their commitment to giving moms the support they deserve and need to be able to breastfeed.
By signing, you will help create a positive momentum for more Baby Friendly hospitals throughout the country so mothers like Cristi will have many options when delivering their babies!
To learn more about breastfeeding and improved health for both mother and baby, check out the MomsRising Radio segment on iTunes!