10 Tips for Healthy, Toxin-Free Road Trips with Kids this Summer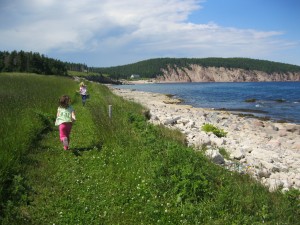 This past Tuesday we had the Eco Tip Tuesday  (#EcoTipTue) Tweet Chat at its new time, 9pm EST. Lots of parents turned out to share their best tips with MomsRising and yours truly of Non-Toxic Kids. Here's a recap of the best tips for hitting the road this summer with children and staying as safe, healthy, green and as toxin-free as possible.
1. Pack your useable water-bottles!  This tip came from our friend Lori of Groovy Green Livin. When she is packing for her kids  to go to camp, she always makes sure to include their useable water bottles and skips the bottled water. Why? Bottled water wastes plastic, exposes kids to the toxins (especially when bottles are left in the hot sun), and is less regulated then tap water.
2. Plan out your food stops using Yelp or other service where you can locate healthier options, farmer's markets, and co-ops. Gloria shared this tip and said that anyone riding shotgun (usually her!) has this important job.
3.  Dionna from Code Name Mama shared her favorite tip:  pack a cooler and shop at the grocery stores. She notes that it is much cheaper and healthier than eating at fast food and other chain restaurants! I issued a challenge-- pledge to avoid the chain restaurants this summer to find quirky, local eateries and support local businesses.
4. Skip the toxic hand sanitizer (those containing triclosan) while traveling. Use a safer version like Clean Well or good ole' soap and water, which works just as well.
5. Pack snacks in non-toxic containers made from stainless steel, glass, cloth, or ceramics. Avoid plastics. They leech hormone like chemicals (BPA) into your child's food, which have been linked to a host of health problems.
6.  Make easy to eat meals before traveling for kids to eat on the road. Tips from the chat included making Curried Kale and Apple Empanadas from Parents Need To Eat Too by Debra Koenig, sandwiches, biscuits, salads, and pancakes (minus the syrup!).
7. Pack cloth napkins and a few dish towels for inevitable spills!
8. Bring your own utensils. You can grab silverware from home, or use bamboo sets instead. This way you can cut down on plastic use and exposure at the same time. Good for your family and the earth. A win-win!
9.  Pack some of these favorite healthy road food picks from tweet chat participants:  carrot and celery sticks, grapes, almonds, Trader Joe's Seaweed Chips, and raisins.
10. Avoid the Hazardous 100+ Chemicals. Many of these are in products related to travel. You can see which chemicals made the list and the examples of products they are in. One great tip-- back your own biodegradable personal care products (shampoo, lotion, etc.) to reduce exposures and help the surrounding waterways.
Look at all that knowledge shared during our Tweet Chat! And it was lots of fun. Please join us this week on Tuesday at 9pm EST on Twitter under the hashtag #EcoTipTue. This week we will discuss scary couches-- that's right, the toxic flame retardants in couches, other furniture, and what you can do about it with our guest, the staff scientist with The Green Policy Institute!
What is your best tip for staying healthy, green, safe and toxin-free  as possible during road trips with kids? Please leave a comment and let us know. Drop some of your knowledge on us!
Wishing you all healthy, happy and safe road trips.