We Are MomsRising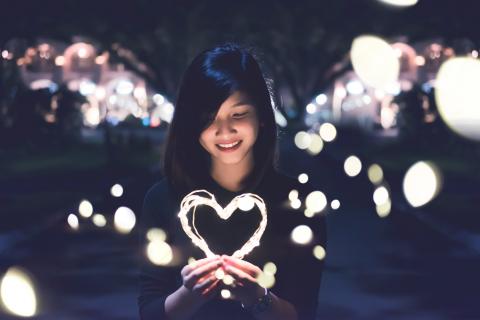 10 Stories From 10 Hearts - We Are MomsRising
Earlier this month, we asked the MomsRising community, how is your heart today? 
Hundreds of members responded, sharing their hopes, worries, angers and joys. In every submission, we can see that love and caring for others unites us, sustains us, and helps us keep rising for a brighter future. 
We loved reading these stories. THANK YOU for sharing them!
I've chosen a few favorites — 10 stories from 10 hearts — that celebrate what it means to be part of the MomsRising movement. I hope you enjoy them! 
---
#WeAreMomsRising uses personal stories to showcase what it means to be a mom, a woman, a family member in America. Personal experiences are powerful and can make a HUGE difference in helping our communities and elected leaders understand how public policies impact families. Share YOUR story here.
---
Deb from Wisconsin
"I can't tell you how much it means to receive this message today. I am in the middle of a class on healing from personal trauma and I am both healing and struggling. It is intense. But this healing is necessary for me to be able to move forward in activism with an open heart, not a tired, shame-filled one. My inbox is constantly filled with requests for help from me, requests that leave me paralyzed at times with overwhelm, and guilt that I haven't fixed it all. I am learning that gaining my personal freedom will help others, that it will energize me to do good work, that it is essential and actually even OK for me to feel joy, even when awful things are happening in the world. I am guessing many who are part of MomsRising are empaths like me, who feel responsible for fixing all the wrongs done in the world. May we feel joy, and grow in joy as we work together and know we are not alone in this quest. And may we know that we are worthy as we stumble and struggle along the way. Thank you for all you do and thank you for checking in on our hearts!!"
Jane from Pennsylvania 
"My heart is grateful for folks who work for children and moms. Kids are our future. We need to do everything in our power to nurture and sustain them."
Toni from New Jersey
"My Heart remains broken...broken for the loss of my Hero Nurse Brother to COVID-19..broken for the Citizens of this country who have allowed themselves to be duped into believing Lies & Misinformation! My hope & my prayer is that LOVE will one day overcome the Hate that has permeated the land! As long as we have Breath, We CAN be the Change that we want & need to see!! Humanity is waiting!!"
Katrinnalynn from Washington
"My heart is ever grateful for you women who give so much to work toward what you care for. I am disabled and can't do a lot physically, but I pray for you always. My heart is very troubled by voting rights injustices. I know that if we don't fix this the Democratic Party (aka the party for real people who have needs) could cease to exist. I DO NOT want to live in that world of financial security for a few, and the power mongering that keeps the status quo for the Uber rich."
To-wen from California
"I envision a United States of America that support breastfeed/chest feeding in workplace and in public; with less junk food commercials targeting children; provides immigrant families a path to citizenship; has paid family leave for all parents; controls gun violence; where quality childcare and universal healthcare is available to all, and children of color better represented in media. Until all these happen, I continue to rise for moms and our children."
Kristin from North Carolina
"First of all, I love that you're asking this question - I don't think we ask it enough. My heart is hopeful and my heart is sad and angry. (Kyle Rittenhouse was just acquitted (ANGRY) and Julius Jones's execution was stayed (HOPEFUL. SAD.)) The issues dearest to me are all of our children - especially our Black and brown children who are at huge risk of violence and discrimination. It is sickening and heartbreaking to think of the loss of innocence children are subjected to every minute, when their parents have to have "the talk" with them about how our country sees them as a threat. None of our children are exempt from the impact of racism; we must raise them with awareness of their privilege or lack thereof, and try to teach them about a world that makes absolutely no freaking sense. It makes me so sad, and FURIOUS on behalf of moms, and inspires me to stand together with mothers to change things for the better. My favorite quote is "There is no such thing as other people's children" and that's what inspires me to keep showing up."
Lynette from Arizona
"My heart is tentative. There are a few things to feel hopeful about and several things that are appalling. I am still willing to be open most of the time, willing to reach out, trying to give of myself and yet take time to pull back and rest and regroup. Against the odds, I still believe there are more good people than not. My family and friends are most important to me, but I care about those outside my small circle, too, those all over the world who are struggling and hopeless and who show me that I am privileged beyond realizing it. My heart is beating; I am still willing to try."
Angela from Missouri
"Us moms want to fix everything. Help everyone. It's been so hard to see so many suffer and struggle, Covid and everything after. One day at a time is all I know to do."
Julia from Iowa
"Probably not what you're expecting but, here goes: Today is my granddaughters' 10th birthday. She was born 11 days after I lost my husband of 35 years. He was my rock. She was my hope. This past July 4th, I lost my daughter Holly. She was born 12/17/1982. During the pandemic, she moved back home & worked from a makeshift office on our dining room table. We shared so much this past year. I adored having here here! So, even a pandemic can be a blessing! My heart is heavy. I have so much to be grateful for & I try to remain thankful, but this December will be hard. I am forever changed. Although, I've always thought a wise person swallows their grief so no one else has to taste it...you asked. And this is my truth."
Earl from Ohio
"What's in my heart now? Well, there's concern for our world. Climate change, whether caused or magnified by man, threatens to destroy everything we hold dear. There's also hope. Hope that the powers that be awake from their stupor in time to mitigate the worst of it. And there's love. We are supposed to love others as we love ourselves. It's the only way to fix what's broken in our world."