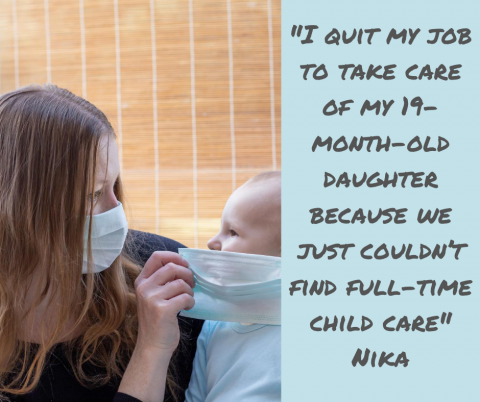 "It Sucks." Infants, Toddlers, and the COVID-19 Child Care Crisis
Kansas mom, Kaylee, just about summed up the crisis families are facing with child care with MomsRising: "It sucks. I'm afraid to send them to a grandparent, but also afraid to send them to a [formal child care] situation where we don't know the risks of them bringing home COVID to those same grandparents." 
This is the reality for so many of us with infants and toddlers right now, including myself. My one and a half year old is this amazing, cheerful ball of energy that, quite frankly, is impossible to multitask with (even on calls) without my feeling like I'm putting her in danger with my divided attention. Just yesterday, I **barely** caught her before she tried to launch herself off our bed and onto my nightstand. Everyday that I don't have child care my spider baby struggles, my workplace struggles, and my whole family struggles. 
And child care isn't a new problem for families with infants and toddlers. 
"I lost my job because my child care is only opened half day now." Shannon, OH
A new study for the Center of American Progress found that while the shortage of licensed child care in the U.S. is bad in general, for families of infants and toddlers it's especially dire. In fact, licensed child care is more than three times as scarce for children ages 0 to 2 than it is for those ages 3 to 5. 
I.e. IT SUCKS!! And COVID19 is only making things worse. 
According to the same study, there is only enough licensed child care to serve 23% of infants and young toddlers. With many child care centers now closing permanently across the nation due to insufficient relief and many more expected to close without support, families (and more specifically, moms) with infants and toddlers will be the hardest hit. Again, IT SUCKS! 
Importantly, this isn't hypothetical by any means. It is already happening. Here are just some of stories that have come in from MomsRising members in the last few weeks:
"I quit my job to take care of my 19-month-old daughter because we just couldn't find full-time childcare. It was hard to find good childcare where I live before the pandemic, but now with so many daycares closed or operating at a reduced capacity, it seems literally impossible." Nika, Maine
I am a nurse and have been working nights and weekends while my husband works weekdays.  We don't have family that can help us permanently.  This is not a long term solution.  Our child care closed permanently. I can't go to part time because I carry the benefits and my husband's job doesn't allow part time.  No one wants to watch our kids because I am a nurse.  Our possible new daycare continues to delay opening.  We are at a loss, exhausted, and our children are in need of more." Nicole, Pennsylvania
"Due to schools closing and our daycare going off of what schools are doing, we are losing childcare for both of our kids. My husband works full time during the week and I work nights as a nurse. Now my husband is having to quit his job part time to stay home on the days I have to sleep to ensure our oldest is doing school work and our youngest has someone to watch him." Ceara, Oklahoma
"I am unable to place my children in daycare. My 4 year old has asthma and his doctor is against him going. I also now have a 2 month old. She also advised him to also not attend a daycare. I am an essential worker and my job is currently not protected." Nancy, Texas
"Our safety net has been ripped out from under us. My husband and I are both working from home full time as scientists while watching our 2 and 4 year olds. It is simply infeasible. The lack of attention--or even acknowledgement--of the heavy burden of childcare by political leaders has been appalling. This issue must be addressed now. Without any support from decisionmakers, our nation is risking losing every gain that women and people of color have made towards equity in professional advancement. My family and millions across the nation deserve better." Gretchen, Maryland
Families with infants and toddlers are struggling. We must continue to support affordable, high quality child care during this pandemic and after as a critical lifeline for our youngest children to ensure they and their families thrive.
**Interested in reading more stories from families and child care providers? Check out this new book we created with many of our friends in the early childhood world that highlights the impact COVID19 is having on child care: Child Care in Crisis: Stories from the Field