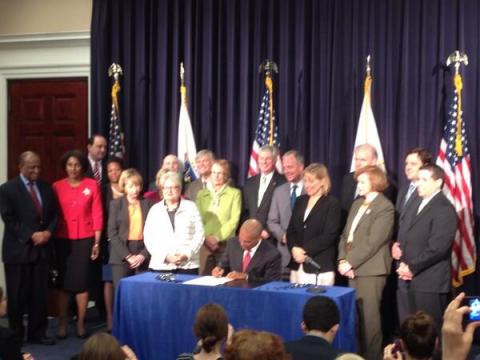 "It Blows My Mind that I Have to Sign a Law": Massachusetts becomes 21st State with a Law Against Shackling Pregnant Women
After signing a bill to outlaw the shackling of women in labor, Massachusetts Governor Deval Patrick told the packed room, "It blows my mind that I have to sign a law for that." 
With the governor's signature, Massachusetts became the 21st state to limit the use of restraints on pregnant women, especially during labor and childbirth.
The Massachusetts law offers the most comprehensive health and safety standards for pregnant imprisoned women to date. In addition to limiting the types of restraints that can be used and the situations in which they can be used, the law also requires that corrections personnel always drive pregnant women in a car with seatbelts, and mandates medical care, nutrition, and basic necessities like maternity clothes.
The bill takes effect immediately. 
Advocates are celebrating victories in three states this year, after facing a series of roadblocks in 2013. Earlier this week, Governor Mark Dayton signed a bill into law in Minnesota, and last month Governor Martin O'Malley did so in Maryland.
During the signing ceremony, the Bay State legislators who championed the bill emphasized the words "humanity" and "civilization" to explain their motivation, asking how anyone could treat pregnant women with such disregard in the 21st century.
This is a question that policymakers still need to address in more than half the country. 
Catch up on the campaigns and the new laws here: Maryland, Minnesota, and Massachusetts.