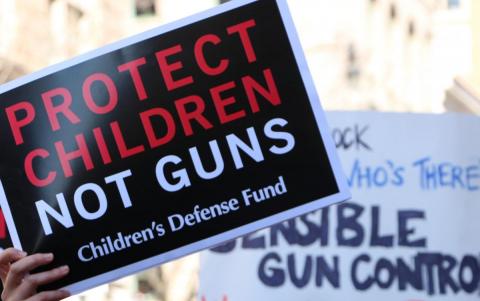 "I Will Never Forget That Day"
"I was in my 4th period Holocaust history class. We were presenting our projects on hate groups found on college campuses…As we sat at our desks working on our computers after presenting our projects, we began to hear loud pops…I thought I was going to die. As I laid there, I begged God to please make it fast…
"My classmates pulled me behind a filing cabinet where I called my mom and my dad and said what I thought would be my last goodbyes. I told them how much I loved them, and asked that they please tell my brothers the same. I was so petrified that I began hyperventilating. My classmates had to cover my face so the shooter wouldn't hear my cries and come back. I will never forget that day. What I saw. What I did. What I experienced. What happened to my classmates."
This was 17-year-old high school senior Aalayah Eastmond's testimony during a February 6 Congressional hearing on gun violence prevention, describing how she survived the mass shooting one year ago at Marjory Stoneman Douglas High School and the murders of 17 of her teachers, classmates, and friends, including two students who were killed in her classroom. Aalayah was forced to hide behind her friend Nicholas's body to survive. She came to Washington to beg members of Congress to pass common sense gun legislation that will help keep her and millions of children safe and protect students in America's schools from experiencing the same trauma she did. Aalayah has been speaking out for the past year about the horrors of that day, defying cruel adults who claimed she was a "crisis actor" and working through her nightmares and sense of survivor's guilt. As a survivor of gun violence she is far from alone.
In their new report A Nation of Survivors: The Toll of Gun Violence in America, Everytown for Gun Safety explains the scale of the shameful burden we place on our children and communities: "Every year, over 36,000 Americans are killed in acts of gun violence and approximately 100,000 more are shot and injured. With death and injury tolls this high, America is undeniably a nation of gun violence survivors. But the impact of gun violence extends far beyond those killed or injured. Gun violence in any form—whether a person witnessed an act of gun violence, was threatened or wounded with a gun, or had someone they know or care for wounded or killed—can leave a lasting impact on individuals."
Every day in America is that day for someone new. Aalayah's family had already experienced gun violence—her uncle was killed by a gun when he was only 18—before Aalayah survived the shooting at Marjory Stoneman Douglas. Everytown estimates millions of Americans have witnessed a shooting, had a friend, family member, fellow student, or colleague killed by a gun, or otherwise felt the deep pain and trauma of gun violence. They include children who have witnessed one parent kill another with a gun or seen a gun used at home as a source of control; those who have lost a friend or family member to suicide with a gun and are left with grief about what they might have done to prevent it; parents and family members who left a gun stored unlocked in a dresser or under the front seat of a car where a child found and used it; and gun owners whose guns were used by others, intentionally or unintentionally, to take a life. When we count the victims of gun violence, far too we often we do not include all the survivors who feel the pain indirectly but often just as intensely.
Survivors often are left with profound grief, anger and fear; physical and behavioral health challenges; economic burdens; and overwhelming guilt.  The Everytown Survivor Network is just one resource for people who have experienced gun violence in any way. At the same time that survivors seek healing and peace, many of them, like Aalayah, are also on the front lines seeking justice and change for those they have lost.
The February 6 hearing where Aalayah testified was the first Congressional hearing on gun violence in eight years, a sign of progress after far too much delay. The good news is that  the Bipartisan Background Checks Act of 2019 (H.R. 8) and the the Enhanced Background Checks Act of 2019 (H.R. 1112), both of which strengthen existing background check laws, were passed by the House Judiciary Committee and will be considered by the full House of Representatives. In a nation of survivors we must all demand more of a sense of urgency and effective action from our leaders to stop the slaughter of our children.
During the hearing the gallery was filled with young people, parents of children killed at Parkland, and other survivors demanding that our leaders do something to protect them, not guns. Aalayah ended her testimony: "Rather than listen to special interests, I ask you to listen to the nation's young people and the overwhelming majority of Americans, who have had enough. We have had enough of the gun violence rampant in our schools, in our movie theaters, our places of worship, in nightclubs and restaurants, on our streets, and in our communities. Enough. We have all  had enough. I hope you  have had enough too and use the power the people have vested in you to do what is right." May God help enough adults in America choose to stand up and protect the children God has entrusted to our care!