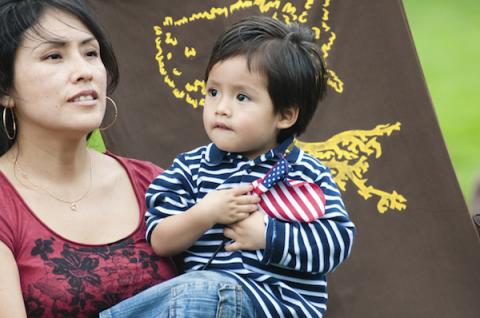 'Our Hearts Break for These Children and Families:' On U.S. Plan to Hold Children of Asylum-Seekers
On reports that the Trump administration plans to hold children it forcibly separates from their asylum-seeking parents at military bases:
America's moms are horrified by the Trump administration's destructive immigration policy that hurts women and children in particular. The policy reported late yesterday, that the federal government is preparing to house immigrant children at military bases, is unconscionable.  Moms know this is the wrong direction for our nation and we also know our country should be welcoming immigrants and those seeking asylum from violence and natural disasters, not tearing apart asylum-seeking families and compounding their terror and trauma. As we noted when the Attorney General announced the administration's plan to prosecute asylum seekers and separate children from their mothers, this policy demonstrates a breathtaking level of cruelty.
Our hearts break for these children and families, fleeing brutal violence, who come here seeking a better life only to be treated with outright cruelty. Instead of welcoming them, we are violating their human rights by forcibly separating children from their parents. Now comes the news that our government is making preparations to house unaccompanied children and those it separates from their parents at military bases, which certainly are not positioned to provide the care and support that traumatized, vulnerable children need.
This is a shameful, horrifying chapter in our country's history. America's moms will continue demanding that Congress intervene and prevent the Trump administration from separating asylum-seeking parents from their children. All asylum-seekers deserve to be treated with compassion, respect and dignity, and all children deserve to be cared for in communities that can provide services and support.