Toddler Thursday: Kid Crafts and Recipes for Mother's Day!
Welcome to Toddler Thursdays! Every Thursday, visit the MomsRising blog for crafts and recipes for toddlers and preschoolers, as well as news and tips on childcare and early education.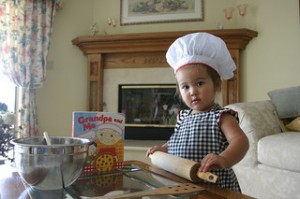 Photo credit: Photo by Flickr user mali mish
This week, we're celebrating Mother's Day with easy homemade gift ideas for toddlers! Be sure to visit the MomsRising Pinterest page and our Mother's Day and Early Learning boards, where we're adding new kid-friendly craft tutorials every day. And while you may not get your Mother's Day gifts until Sunday, we have one ready for you right now! Click here to check out our  hilarious customized Mother's Day video.
Kid Friendly Crafts for Mom: With Mother's Day right around the corner, your little ones are probably excited to celebrate their wonderful mom! Why not try an easy, preschool friendly Mother's Day craft with them? These craft tutorials were developed specifically for toddlers.
Flower Bookmarks for Mom by Share & Remember
Mother's Day Activities for Preschoolers by Teach Preschool
Mother's Day Cards by Two Sasters
This Much Card and a Kid Canvas by Tiff Keetch
World's Best Mom Newspaper by Martha Stewart Holidays
Tulip Handprint Project by Skip to My Lou
Handprint Craft: Sunflower Garden by Holiday Kid Crafts
Recipes for Toddler Chefs: Want to do the traditional Mother's Day breakfast in bed, but not sure how to get the kids involved? Think outside the box and try an easy recipe that toddler chefs can make themselves (with a grownup sous chef, of course!). Make your own tradition with a Mother's Day dessert or Mother's Day Snack Time. Or add one of the recipes below to a festive breakfast in bed. (Do you have older kids who want to get in on the fun? Check out our Mother's Day Craft Roundup for crafty ideas for Mother's Day brunch)
Mixed Fruit Baked Oatmeal by Toddler Times
Salad People by Foodie Parent
Cooking with Toddlers by Tinker Lab
Frozen Yogurt Covered Strawberry Pops by Family Kitchen
10 Easy Things to Cook with Kids by Childhood 101
How to Make Healthy Granola with Kids by ParentEarth
Strawberry Parfaits for Mama's Day by Weelicious
Editor's Note: And for Mother's Day 2013, here's a free and funny way to celebrate all the moms in your life: The Evolution of Mom Dance! http://momdance.com/