Thumbprints Heart Charm: A Mother's Day Gift Craft Tutorial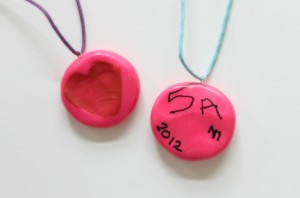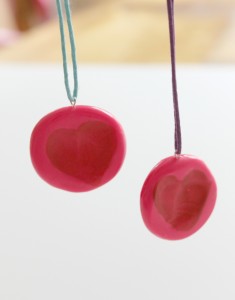 This morning I went in to Sam's class to make these polymer clay charms for the kid's to give their mom's on Mother's Day. It wouldn't be a bad idea for Grandma gifts either & it's a relatively quick craft.
I gave each child about a 3/4″ square of polymer clay & showed them how to roll it into a ball. Then they used the palm of their hand to smoosh the ball into a coin shape that's around 1/4″ thick. (the boys liked that part) I took each of the their thumbs & pressed them into the clay coin to make a heart imprint. (if you press their right thumb on the left & the left thumb on the right they'll cross into a nice heart print)
Next I stuck an eye pin (easily found nowadays in the jewelry making aisle of your local craft store) down into the top of the coin making it a pendant. While the kids ate lunch I baked the pendants in a glass baking dish at 250 degrees for around 15 minutes. (follow your clay's specific instructions, I used Sculpey brand)
Once they were cool I called each child over & had them write their name (or initial if they had a long name, it's a bit of a small work area) in Sharpie on the back & I also wrote the year. Next I handed them a small tipped paintbrush with bit of red paint & had them fill in the heart imprint. I dipped the brush for them because if they glob on too much you won't be able to see their fingerprint details. After they were dry I gave them a thin coat of clear glaze for protection. (I used Sculpey glaze in Satin)
String them on some cord or a chain & that's it! A sweet keepsake for a sweet mommy.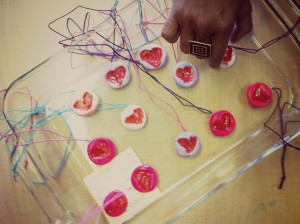 Originally posted on Little Pink Monster
Editor's Note: And for Mother's Day 2013, here's a free and funny way to celebrate all the moms in your life: The Evolution of Mom Dance! http://momdance.com/