Three Ways to Protect Kids from Junk Food Ads at School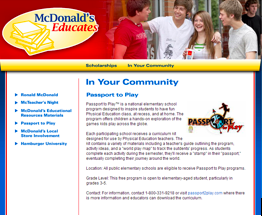 Every day, 12- to 14-year-old kids see an average of 15 food ads on television, and preschoolers see 11. Special offers and food-themed games pop up on children's websites, and companies can now send personalized ads directly to kids' cell phones. Brightly-colored packages line grocery store aisles, and kid-friendly characters peddle snacks of all kinds from the sides of cartons and boxes. But many parents don't think about one of the more alarming places where food marketing bombards their kids: at school.
Marketing in schools takes many forms, from fast-food logos plastered on scoreboards, to coupons for free desserts provided by companies and handed out by teachers, to sugar-sweetened beverage logos on vending machines, to themed "educational" materials provided by food and beverage companies. Even as new federal regulations ensure improvements to the nutritional content of school food, such marketing undermines parents' and educators' efforts to encourage healthful eating.
According to a recent Federal Trade Commission report, companies spent $149 million on food marketing in schools in 2009. This represents 8.3 percent of all advertising directed at kids, and probably still underestimates the total amount of money spent marketing in schools.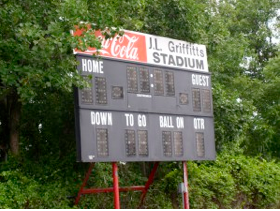 Though not impossible, it can be tough to regulate food marketing to kids. Like it or not, over the past 40 years, courts have increasingly found that the United States Constitution protects corporate "speech." However, marketing in schools is a different story. Because schools play a unique and important role in educating children, they are also granted more leeway to prohibit certain types of marketing on campus. This can be done either by the school district or on the state level.
If you're a parent in a district that does not have a policy in place to restrict marketing in schools, you can advocate for one of these three ways in which schools can go about getting rid of junk food marketing:
First, they can ban marketing altogether. Several school districts, including Seattle and San Francisco, have adopted broad commercial-free policies that address marketing across the board – not just of food and beverages.
Second, they can ban all food and beverage marketing.
Third, they can ban the marketing of foods and beverages that may not be sold on campus.
ChangeLab Solutions has model district-level policies banning all food marketing and banning the marketing of foods that may not be sold on campus, as well as a forthcoming model state-level law addressing the same. We also have fact sheets and additional information about how to limit food and beverage marketing on campus.
It's important to note that some school districts include marketing-related provisions in their broader wellness policies, so that's something to check, too.
If you're a parent in a district that has strong policies in place, you can help be the eyes and ears on the ground to ensure those policies are properly enforced. Is your child bringing home coupons from fast food restaurants? Does your local school have a junk food logo on its sign? Bring these things to the district's attention by talking to the superintendent. If it's easier, you can start with your child's teacher or the school principal.
Though you can't protect your kids from all the marketing out in the world, you can help ensure they aren't subjected to junk food marketing in the place where they spend the majority of their time.
This blog is a part of the MomsRising and CSPI #HealthyHalloween Blog Carnival