The Trouble With Tribbles and Food Deserts
The New York Times featured an article announcing the results of two studies examining the relationship between the physical health conditions in low-income neighborhoods and the availability of "healthy" food.   The studies, the Times piece reported, seem to contradict the popular notion of a "food desert" by claiming that low-income neighborhoods where obesity and other health disparities are acute, not only have more junk food and fast food joints, but also have more supermarkets, produce retailers and full-service restaurants than more affluent neighborhoods.
On the same day an article came out in the Bed-Stuy Patch asking why more Black people haven't joined the Clinton Hill based food co-op, Green Hill.
It reminded me of an old Star Trek episode called the "Trouble with Tribbles," in which a furry life form, which had overtaken a supply of grain on Deep Space Station K-7, was found to have been fatally poisoned by a Klingon spy. The poison created a chemical reaction which made the Tribbles eat more, but increasingly robbed them of nutrition.  Captain Kirk summed up the irony this way: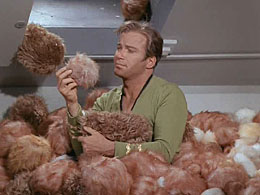 "They starved to death. In a storage compartment full of grain, they starved to death!"
This is essentially the conclusion of these reports.  Despite what those radical food justice advocates say, that peculiar species of black and brown people living in urban America have all the access to healthy food they need, but they still manage to emerge malnourished.
Unlike Captain Kirk however, the reports cited by the New York Times seem to minimize the poisonous effects of the food system itself. They come with no analysis of the quality of produce and full service restaurant options in poor neighborhoods. Nor do they compare the prices of the "healthy" food options, or, as my fellow food activist Beatriz Beckford likes to point out, weigh the effects of the corporatization of the food system in which certain food commodities are subsidized, heavily marketed and prioritized for consumption.
And in the case of Central Brooklyn these studies seem to be contradicted by anecdotal evidence and an earlier survey of Bedford-Stuyvesant which found that among the 216 retail stores selling food here, high priced bodegas comprise 81% of the total, with specialty stores, supermarkets, drug stores and gas stations making up the balance.  Only 30% of bodegas sell reduced-fat milk, compared with 90% of supermarkets; about 28% of bodegas carry apples, oranges, and bananas, compared with 91% of supermarkets; and leafy green vegetables are available at only 10% of bodegas.
Despite the emergence of new restaurants in gentrified areas of Central Brooklyn, it would be hard for anyone cruising down Fulton Street in Bed-Stuy, or Nostrand Avenue North Crown Heights, or Pitkin Avenue in Brownsville, for instance, to conclude that they have more healthy food options than 7th Avenue in Park Slope.
But it's not enough to recognize the poisonous effects of our food system in which a Twinkie and a genetically engineered tomato are more glamorized, affordable, and yes, more accessible than an organic squash. It is ultimately up to us, people living in neighborhoods of color, both low- and middle income, to throw off our food chains.
The food justice community in Central Brooklyn has never been bigger and more aggressive.  I for one dream of starting a food coop, one that has a leadership and general membership that is not exclusively, but at least predominately people of color and low-income folks. It will require us to not only open our doors, but to engage people in a way that integrates healthy eating options into their way of life.
If you want to join me and others in making this happen, email me at mwgriffith@brooklynmovementcenter.org.
Mark Winston Griffith is the Executive Director of the Brooklyn Movement Center. He recently discussed these issues on the Brian Lehrer Show on WNYC.
This post is part of the MomsRising "Making the School Day Healthier" Blog Carnival headlined by Top Chef Lorena Garcia."