The Affordable Care Act Has Allowed Our Children to Pursue Their Dreams
Thanks to the Affordable Care Act, our children can now stay on our health insurance until they are 26.
My son started school late. He is 19 and completing high school while taking college courses. Without ACA, my son would not be covered by our health insurance, and would be forced to look for work that offered health care coverage rather than focus on his studies. A college education is important to us as it means for our son a better life than the one we had. Plus, we pay our insurance premiums and our co-pays. We deserve the right to cover our children while they are in college!
I have another son that has issues that require mental health appointments. It is vital that he continues his treatment.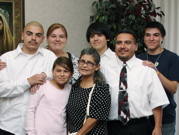 Many of our young people in college go without health coverage and when issues like these come up, they are devastating.
Tonya Arroyo is the mother of four children. She lives with her family in Phoenix, Arizona.
Read more personal stories about how health care reform has affected families across the nation here.