State-Sanctioned Shaming and the Battle for Reproductive Rights
For almost all American women, reproductive rights are not mere fodder for political debate. Rather, they encompass highly personal decisions. Do I want to get pregnant? Do I want to remain pregnant? They are unavoidable choices made by heterosexually active women—including Catholic women, who use contraception at the same very high rates as other U.S. women.
Every woman who has ever engaged in heterosexual activity (voluntary or involuntary) can speak to this issue. As a 23-year-old woman from an upper-middle-class family in New Jersey, the stories I hear from peers and friends revolve around what type of contraception they use, not whether they use it. And yet, from purchasing condoms to buying pregnancy tests to asking doctors for prescriptions, the shaming of women who admit to having sex is still very much a part of our culture.
I will never forget my mother telling me about her experience getting an abortion. She had it in the 80s, and the male doctor who performed the abortion did not try to hide his disgust. He had created a narrative for my mother in which she was alternatively careless, promiscuous, manipulative, and/or attempting to trick her husband into having children so that he would remain with her. If my mother had any uncertainties about this doctor's attitude, his incredibly forceful slap before giving her a shot of anesthetic clarified things. When he left the room, the nurse looked at my mother in shock.
When I first heard this story, it evoked many emotions in me that I couldn't name. While it might not convey the full depth of my revulsion, I've come to think of it as feeling queasy.
In January I made the decision to get an Intra-Uterine Device (IUD). Having recently moved to New York, I was still a patient of my mother's gynecologist, a male doctor she had gone to for years but not the same doctor from her story. He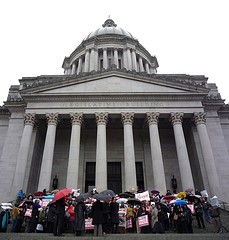 complied in ordering me an IUD. After discussing it with my mother, I called the doctor's office to ask whether he could prescribe a painkiller that I could take prior to the procedure. "Just take three Motrin," his assistant told me. My mother was unsatisfied. "They are going to penetrate your cervix," she said, "that's what makes childbirth so painful." But her attempts to obtain a prescription for me—for even a single pain pill—also failed.
I am very satisfied with my IUD as a form of contraception. I no longer have to take a pill every day or rely on over-the-counter contraception that is just 90 percent effective. And I am no longer putting hormones into my body. But there is no hiding the fact that the procedure was extremely painful. As I sat in a paper gown, the gynecologist asked me whether I was nervous. I replied that I was nervous about the pain. "Why didn't you call? I would have prescribed you a painkiller or two," he said. I was incredulous. I told him his office had refused. I said my mother had also called and been scolded for trying to defy "office policy." He changed the subject. Then I experienced a lot of pain.
For the rest of the day, I felt physically nauseous. But beyond that, I felt queasy.
Other women I've spoken to who have had an IUD have also experienced intense pain and have similarly been told to "take Tylenol" or "take Motrin." One is often given nitrous oxide and a shot of novocaine for a minor dental procedure where little pain is involved at all. But in order for such care to be standard when a gynecologist inserts an IUD, women's reproductive health would have to be considered a national priority and the pain women experience in association with reproductive health would have to matter in public discourse.
That queasy feeling is by no means exclusively my own, although lately I have been feeling it more and more. This past Saturday, more than 30 people were arrested on the steps of the Virginia state capitol by police, some in riot gear, for protesting a bill that requires women to have an ultrasound before getting an abortion. This bill is liberal in comparison with its original, which required women to undergo a trans-vaginal ultrasound prior to an abortion, a procedure many dubbed "state-sanctioned rape."
Reproductive rights have once again become a major platform for political and ideological power struggle. The increasingly hostile interaction between church and state is playing out on our bodies. Our sexuality and right to control our reproduction are in danger. For women, this is not a theoretical question. It is an everyday imperative.
The reactionary anti-choice, anti-contraceptive measures the GOP is currently advancing exist ultimately to punish women. Cloaked in the language of protection (women may decide not to get an abortion once they fully understand the meaning of pregnancy vis-à-vis an ultrasound), legislation that aims to undermine women's control of reproduction is nothing other than state-sanctioned shaming. This becomes inescapably clear when the Rush Limbaugh's of the world inevitably slip up and call pro-choice women "sluts" and "prostitutes" and publicly suggest they post pornographic videos of themselves on the Internet.
The queasy feeling induced by our nation's hostility toward women's reproductive rights is spreading. That 20 separate companies have pulled advertising from Rush Limbaugh's radio show in light of his sexist and slanderous attacks is encouraging. But what we need is a shift in the nation's attitude toward women's bodies. When control of one's own body is not just standard care but encouraged through governmental and medical aid, when adequate reproductive care is available to every single woman, when the pain women endure matters to the rest of the population, then perhaps we will all stop feeling queasy.
Cross posted with author permission from Women's Media Center.
This post is part of the International Women's Day blog carnival in partnership with Ms. Foundation for Women.