Kids are experts at getting the attention of their parents. They tug at us, they snuggle up, they deftly bargain, and let's face it--that whining can be pretty effective. But as a political lobby, kids are easily overlooked. Right now, the headlines about health reform center on adults while millions of children remain uncovered and under-insured.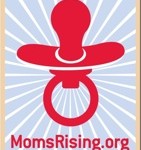 MomsRising Lapel Pin
Make sure that health reform is a win for kids too. Today--right now--we're delivering a MomsRising pacifier lapel pin to each and every member of Congress, along with healthcare stories from our members. Why a pacifier on the pin? Well, we're asking every member of Congress to join us in not being pacified until our broken healthcare system is fixed for kids and families!
Tell your Congressional Representatives to look on their desks for their pin today, to pin it on their lapel, and to send us a photo of themselves wearing it so we can post their photo on our website.
http://salsa.democracyinaction.org/o/1768/campaign.jsp?campaign_KEY=27311
We think that seeing members of Congress in the halls of the Capitol wearing patriotic pacifiers along with flags on their lapels will undoubtedly generate some great discussions about how health reform will impact kids. I'd ask why they are wearing a pacifier pin. Wouldn't you? And by collecting photos of members of Congress wearing their pacifier pin, we'll have their public commitment to make sure that the needs of kids are not forgotten in health reform.
Countless moms and dads across the country have told us how important children's health insurance coverage has been for their families--wonderful moms like Natalie from Oklahoma who almost made the tragic mistake of not taking her critically ill daughter, Sophie, to the emergency room because her insurer refused to cover Sophie's "pre-existing" pulmonary/respiratory issues until she could show that she had gone two years without needing medication.
Natalie writes: "We almost didn't take our baby girl, Sophie, who was in severe respiratory distress, to the doctor because we knew that it would hurt her chances of getting insurance. I'm going to ask you to sit for a moment and imagine being in our shoes in that situation. Imagine the shame and guilt of almost keeping your child home from the hospital until it was too late. Now imagine the horror of seeing your child naked in ICU, hooked up to a variety of machines. There is no way to describe how this felt."
No parent should be faced with this kind of heartbreaking decision.
We're happy to report that thanks to healthcare coverage provided by Oklahoma's Medicaid program for kids, Sophie is now thriving.
With all of our voices, we can make sure that every child and family has the promise of healthcare.
Send a quick note now to tell your Congressional Representatives that we're pinning our hopes on them to keep kids and families at the top of their priority list--and ask them to wear the pin we're delivering today to show that they are standing up for our children and families:
http://salsa.democracyinaction.org/o/1768/campaign.jsp?campaign_KEY=27311

Thank you for all of your incredible work to make sure every child and family has the promise of healthcare!
P.S. To see more of Sophie's story, check out this wonderful PBS special on health reform. http://www.pbs.org/newshour/bb/health/july-dec09/pbshealth_09-23.html