Savory Latino Meals Without the Meat (Recipes and time-saving tips included!)
Para estas recetas en español, haga clic aquí.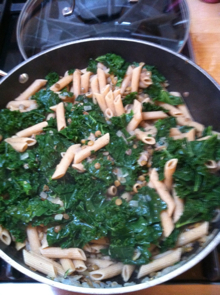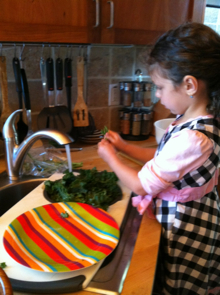 (Photos from left to right: A kale and lentil pasta dish I make regularly; Having children -- like my daughter who is peeling the kale off the stalks -- is a good way to get children to eat their veggies.) Whenever I tell people that I cook only vegetarian food at home, their reaction mirrors my own 16 years ago when I first met my now husband. "What kind of Latino are you?" I asked him as I gulped down a plate of shrimp. As it turns out, he is very Latino. He eats what all Salvadorans eat: rice, beans and tortillas. As a kid of Cuban and Puerto Rican descent, I ate mostly rice and beans, too. But I devoured meat any opportunity I got from Cuban pork sandwiches to Puerto Rican codfish. There was nothing more savory to me than meat broth. Believe it or not "caldo" – a cup of chicken broth with no chicken in it – is an actual meal in Cuba! As for vegetables, well, as I often joke about my Cuban dad, chicken is a vegetable to him. Then I attended college and met my husband, who at the time was vegan, something I had never heard of before. He ate no animal products, including eggs or dairy, for a multitude of reasons. Being crazy-in-love with him, I educated myself on all the advantages of a vegetarian diet -- really, there are many! -- bought vegetarian cookbooks, and even became a vegetarian for 10 years. I started eating meat once I snagged him. (Just kidding!) I had my kids and found myself craving meat, especially red meat for its iron. But to this day, I only cook vegetarian. My husband and son are both vegetarians, and my daughter and I will indulge our carnivorous appetites only in restaurants, which isn't often. For the most part, our family eats a diet heavy on rice, beans, tortilla, pasta, vegetables and soy -- at home. Occasionally, I cook with cheese and eggs, which my husband now eats. I tell you this because simply cutting back on meat has a monumental (positive) effect on our health and our environment. By eating less meat, we reduce our fuel consumption to feed and raise animals for food, and cut back on poisonous gases emitted by factory farms that make us sick and contribute to global warming. And while I am by no means a purist in that I can't say that I never eat meat, I know that if every single American ate meat only a couple times a week or occasionally, it would make a real difference in preserving our environment. As one of those reluctant vegetarians I am happy to report that eating vegetarian today is easy, hearty -- and delicious. I am a woman who loves to eat, and over the years I have collected so many recipes, even substituting traditional Caribbean dishes with non-meat sources like soy. These are meals that even my carnivorous father will eat! I thought I would use this opportunity to share with you some of my favorite regular meals at home -- as well as get ideas from you: Cuban Sofrito (sauce for pasta or beans) Sauté: 1 onion, finely chopped 1 poblano pepper, finely chopped 4 garlic cloves, minced 1 cup of cilantro (chopped) *For sauce in lasagna or other pastas, I add one cup of tomato sauce, a can of tomato paste with water, one cup of spaghetti sauce, ground "beef" from the frozen foods section (MorningStar, Boca, or Quorn), my favorite vegetables, and 6 to 8 manzanilla olives. *Here is a regular dish I make in the fall with butternut squash or pumpkin, white beans and sofrito. Our family eats it with rice or organic tortilla chips. I usually bring it to potlucks at school and it goes quickly! Here are some other recipes: Tortilla Soup Blend: 3 tomatoes ½ onion 4 garlic cloves 1 chipotle pepper from a can 1 lime, juiced 2 tsps fresh or 1 tsp dried oregano (I prefer to grow it in my yard and eat fresh.) Sauté on high heat Add: 6 cups of vegetable stock (All I do is drop 3 veggie bouillons and 6 cups of water in the pot) ½ cup of cilantro, chopped 1 lime, juiced 1 tsp ground cumin Cook for 10 minutes and you are done! At dinnertime, my family breaks tortilla chips in it, diced avocadoes, and grated cheese. It is a hearty meal -- and it is so easy to prepare!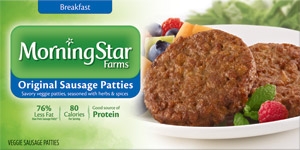 Southwestern Frittata 10 eggs 1 veggie bouillon and two cups of water 2 cups of sliced mushrooms 6 MorningStar breakfast patties from the frozen food section (see picture on right) 2 cups of chopped scallions or green onion -- both the white and green parts 1.5 cups of shredded monterey jack cheese (substitute pepper jack cheese for spicy) 1 can of green salsa or tomatillo sauce Olive oil spray for frittata pan (pictured below) Directions: Boil mushrooms for five minutes in veggie stock (bouillon plus two cups of water). In the meantime, fry MorningStar patties in olive oil and 1.5 cups of scallions. Break up MorningStar patties in fours. Beat the eggs in a bowl. Add a couple tablespoons of the mushroom stock, mushrooms, MorningStar patties and their scallions, and the cheese. Spray your frittata pan with olive oil. For an example of what this pan looks like, see picture below. Cook egg mixture in the pan over medium heat. Usually, I let it cook on the thicker side for about 10 minutes, then flip over, lower the heat to medium-low and let slowly cook another 5 to 10 minutes. Make sure the tortilla is cooked all the way through. Stick a fork in it. One side is usually browner than the other. When it is done cooking, I take apart frittata pan and flip omelette onto a plate -- the lighter side up. Once on the plate, pour green salsa over it -- as much as you'd like. Garnish with leftover scallions. Enjoy! Other Vegetarian Recipes
I don't let the fact that a dish has meat stop me from making it. I substitute meat stock with vegetable stock -- veggie bouillons with water -- chicken for (firm) tofu or ground beef with the MorningStar, Boca or Quorn ground "beef" in the frozen food section. Here is a caldo I plan to make with tofu rather than chicken. There are a lot of great cooking blogs out there. I also rely on various vegetarian cookbooks, largely World Vegetarian by Madhur Jaffrey. Time-Saving Tips:
By far, the most time-consuming aspect of a vegetarian diet is chopping vegetables. This vegetable chopper by Williams-Sonoma has been a godsend for me, and it is the gift I give to all of my first-time mom friends. Tuck it away as a babyshower present! Once you prepare your sofrito, or base sauce, you can freeze it in an ice cube tray and use it as needed. No need to make it every day!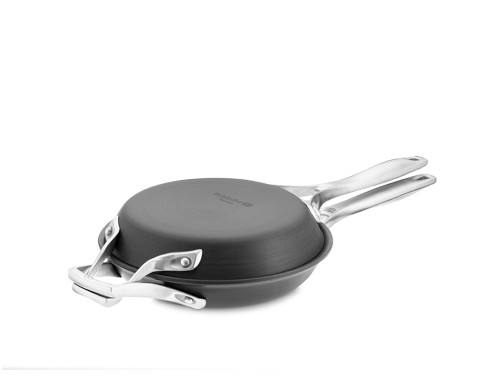 The other Williams-Sonoma product I use is a frittata pan -- pictured on right, but you can probably find in other stores, too -- which I also use to make other kinds of egg omelettes, including the tortilla española, which is made with eggs, butter, potatoes, onions, salt, pepper and ground cumin. Oftentimes, people add chorizo sausage, which I substitute with the MorningStar patties. I serve all my omelettes with a Cuban salad, which is lettuce, avocado, red onions, bell peppers, cilantro and a dressing made of lime juice, olive oil, cumin, salt and pepper. I use the vegetable chopper to chop all the ingredients. Enjoy! Please feel free to use this space to exchange recipes and time-saving tips. ¡Gracias! Fired up? Sign up for MomsRising's e-mails here -- it's free!