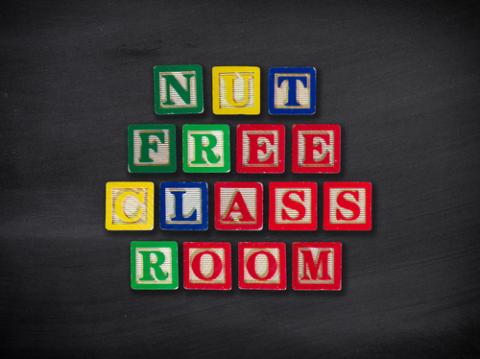 Review Your Family's Allergy Plan This Back to School Season
As part of the Good Food Force, we often focus on changes for healthy food labeling and tackling food changes in our communities. As a mom of a child with a SEVERE tree nut allergy, this scenario hits too close to home. We've battled friends and family who thought we were being too overprotective or dramatic. Adversely, we've dealt with restaurants and food service that went above and beyond food labeling and cross contamination preparations.
Despite a popular misconception, a peanut allergy (or in my child's case, a tree nut allergy) is not merely an upset stomach, sniffle or rash. It is a life or death situation for many families. As some classrooms and entire schools adopt a peanut-free environment to protect their students this back to school season, many parents lack the empathy or understanding as to why this is a necessary course of action. According to Food Allergy Research and Education (FARE), "this potentially deadly disease affects 1 in every 13 children (under 18 years of age) in the U.S. That's roughly two in every classroom."
Anyone who has ever witnessed anaphylactic shock knows the severity of the situation which could ultimately lead to death. That is not a dramatization, but simply a fact. Once an EpiPen is administered, the next immediate course of action is to call 911. Calling for emergency medical assistance is not to blow a situation out of proportion or be attention seeking, but to seek MEDICAL attention. This is the same protocol for a head injury, an epileptic seizure or any life threatening disease.
While there are varying ways that peanuts or peanut butter can impact a child with a severe allergy, be it through ingestion or even airborne, the results are the same: anaphylactic shock, suffocation due to blocked airways and then death as was the case with Natalie Giorgi. Sadly, we live in a society where we are willing to arm teachers with guns to stop school shootings and yet, we allow peanuts or other allergen in schools which are more likely to kill our children.
RELATED
The anxiety of food allergies at school
School Lunches: Unity in the Quest for Quality
While there are other sources of protein for a picky child (including seed butters which taste remarkably like peanut butter), there is no choice other than avoidance or death for a child with nut or peanut allergy. As a result, many schools adopt the peanut-nut free table, however, this policy is an isolating and anti-social solution for students with severe allergies.
During a busy school day, lunch is one of the only times when students can interact and be kids, however, the peanut-free children are treated like lepers in the corner of the school cafeteria. For the most part in education, teachers and faculty go to great lengths to protect the privacy of students with health issues or special needs and yet the peanut allergy child is on display to be mocked by the entire school.
As we roll into back to school season, take a moment to review your family's allergy plan.
Check the dates on your EpiPens and allergy medication.
If your child is old enough to administer his/her own EpiPen, review the process.
Fill out the necessary medical forms necessary for school.
Speak with the school nurse about the schools protocol and procedure for severe allergy attacks.
Schedule an appointment with your pediatric allergist to determine if new allergies have developed or if others have subsided.
Do you have a back to school allergy plan in place? Share what's worked for you in a comment below so we can all benefit from your wisdom!