Tweetchat
#FoodFri Healthy Recipe #4thOfJuly Tweetchat
This 4th of July, my family and I are heading to a family shindig. We'll be spending time with family and friends around the pool and laughing around the backyard tables. Food will be served buffet style with guests bringing their favorite healthy dish. I have a few dishes I like to bring to gatherings, including my friend's famous Spanish Style Green Bananas & Chicken Gizzards (Thankfully, I got over how it looks and can now make it on my own!) But, this weekend I decided to make Edamame & Navy Bean Salad with Orange-Balsamic Dressing. Super easy and healthy!
Both of these recipes were given to me by others. They perked up my tastebuds and helped me stay on track. Because being healthy doesn't mean boring. In fact, it can make you more daring and adventourous, giving you a reason to try dishes you would never have considered.
Join us this #FoodFri, July 4, 2014, during our healthy recipe share.
It really does take a village to lead a healthy life so we're asking YOU to share your recipe posts, resources, and videos with @MomsRising. If you won't be online, you can leave links in the comments. We'll look through the comments and share a few of the healthy recipes during the chat.
Feel free to get creative. If you can squeeze an actual recipe into a 140 characters, please do! Just make sure to add #FoodFri to your tweets.
Edamame and Navy Bean Salad with Orange-Balsamic Dressing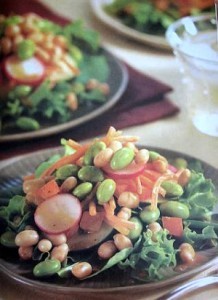 1 1/2 cups of frozen shelled edamame (green soybeans)
1/4 cup fresh orange juice
2 tablespoons Dijon mustard
2 tablespoons balsamic vinegar and 1 tablespoon balsammic vinegar (do not mix)
1 teaspoon olive oil
1/4 teaspoon pepper1
15.5 ounce can of Navy Beans, rinsed and drained
1/4 teaspoon salt
2 ounces mixed salad greens, torn into bite size pieces (about 2 cups)
1/4 medium cucumber sliced crosswise
1 medium Italian plum tomato diced
1/4 cup shredded carrot
1/4 cup sliced radishes
Prepare the edamame using the package directions, omit the salt.
Meanwhile, in a small bowl, whisk together the orange juice, mustard, 2 tablespoons vinegar, oil and pepper. Set aside.
In a medium bowl stir together the edamame, navy beans, salt, and remaining 1 tablespoon vinegar.
Let stand for 10 minutes at room temperature or cover and refrigerate until needed, up to 5 days.
At serving time, put the salad greens on plates. Top, in order, with the cucumber, tomato, carrot, radishes, and bean mixture. Pour the dressing over all.
I discovered this heart healthy meal in the Go Red for Women Recipes for the Heart booklet. It's a no fuss recipe that's perfect for hot summer days!
FYI: You can sign up to receive heart healthy recipes by clicking HERE.
To join and follow the conversation on Twitter use the #FoodFri Hashtag in each tweet.
You can also follow the chat on Twubs.com/FoodFri. Twubs allows you to follow MomsRising's registered hashtags by creating an account. Below I have noted the steps.
Create an account using an email or your Twitter account.
Enter the desired hashtag, #FoodFri, #WellnessWed or #EcoTipTue, in the search box found at the top of the page. Click Enter. A new page will open with the desired chat.
Find the "Join This Twub" button found on the right-hand side bar and join the group.
Adjust the speed of the conversation to your liking. Options are: Fast, Medium, Slow, Slower, or Slowest.
Introduce yourself and join the conversation, by entering your comment, tips, or questions in the "Tweet to #FoodFri as [YourName] box"
Or, respond to a specific tweet by hovering over the right-hand side of the individual's tweet and selecting one of the icons.