Pumpkin Designs You Have to Try, and Seeds You Can't Resist!
I've been writing a lot about Halloween this month, and I've learned something important: Kid Halloween trumps grownup Halloween. I grew up in a Halloween-loving household, where we carved pumpkins every year, roasted pumpkin seeds, and made caramel apples. Those traditions disappeared as an adult. But after spending some lost hours on craft blogs, I realized that I want kid Halloween back. I want crafty, kooky, pumpkin filled Halloween. And if you want that too, I have the perfect starting point for you: MomsRising pumpkin designs.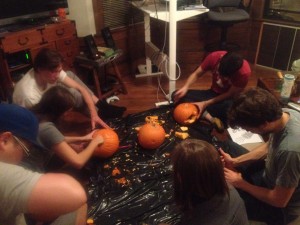 Last Sunday I had friends over to carve pumpkins and try out these great designs from MomsRising. You can try them out too by clicking on the links below!
MomsRising Bullhorn
MomsRising Stars
MomsRising Rays
MomsRising Voting Check Mark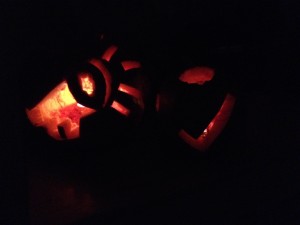 Here's our take on the bullhorn and voting check mark! If you decide to host your own pumpkin carving night, I would recommend going to your local farmers market or grocery store early to get your ideal sized pumpkin. Ours were on the small side, so we had to adjust the designs a bit. You can find tips on how to pick a pumpkin, and how to keep it fresh, by clicking here.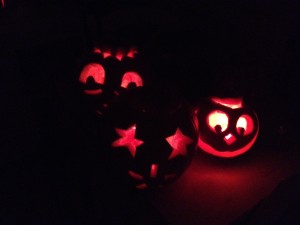 The MomsRising designs were really easy and fun to use. After we carved pumpkins, we roasted pumpkin seeds and accidentally created the world's best pumpkin seed seasoning combination. Try it out! If you don't have Old Bay, you should make a friend from Baltimore and borrow theirs. Just kidding! You can substitute your favorite seasoned salt or spice blend instead.
The World's Best Savory Pumpkin Seeds
Raw pumpkin seeds
Old Bay
Cumin
Salt
Olive Oil
Preheat your oven to 350 degrees. Completely wash off your pumpkin seeds: An easy way to do this is to boil them in water for a minute or two. Dry your pumpkin seeds, and lay them out in a single layer on a cookie sheet. Drizzle with olive oil, then add salt, Old Bay, and cumin to taste. Shake the seeds to get them fully coated, then spread them out again into a single layer. Bake until lightly brown--about 20 minutes (Check at the 10 minute mark, since timing depends on your oven.)
Pumpkin seeds are a delicious, healthy snack. Not only are they full of protein and fiber, but they're also packed with tryptophan, that delightful calming amino acid that you probably associate with Thanksgiving turkey.
Try out the MomsRising designs and let us know what you think! You can also share your pumpkin pictures on the MomsRising Facebook page, or tweet them to us.