Mom (and poultry inspector) to USDA: The new inspection rule will leave us unsafe!
Instead of looking forward to sharing holiday meals with my family in the upcoming weeks, I've spent much of my time worrying about the safety of the food families like mine will be eating at their gatherings. Because of a new and very flawed poultry inspection rule that the USDA hopes to implement in a few short weeks, I'm afraid our turkey and chicken will no longer be safe for our children and grandchildren.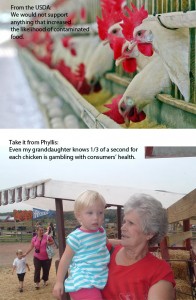 The plan I am referring to is a new model for inspecting poultry, which speeds up processing lines and hands many government inspectors' duties over to plant workers. Having worked in the poultry industry for 44 years, 14 of which I spent as an inspector, I have the knowledge and experience to credibly say that this plan will harm consumers and plant employees while giving us good reason to steer clear of poultry this holiday season.
Being responsible for ensuring that the products leaving my processing line were safe and nutritious, I was proud of my work as an inspector. But when I was assigned to work at one of 25 plants testing out the new inspection model, I quickly began feeling discouraged and that my efforts to protect consumers were being hampered. Most of my fellow inspectors were removed from the lines and their duties were handed over to untrained plant employees—many of whom are fearful of retaliation by employers for removing adulterated products.
In addition to limiting our duties, the new inspection model also limited our ability to thoroughly inspect birds. Line speeds increased from 35 birds per minute per inspector to 175 birds per minute per inspector. At this rate, we were only given 1/3 of a second to view each bird! Our ability to view all parts of the bird was also limited under the plan. With quicker line speeds and decreased visibility, I am certain that this risky plan will allow products contaminated with feces, bile, feathers, and disease to enter the food chain, and would likely lead to an increase in food-borne illness.
This is why I started a petition on
Change.org
, asking the USDA to halt plans to move forward with the nationwide implementation of this model. I've called on others to join me in demanding that inspectors' abilities to ensure safe, high-quality food is not limited. My petition has garnered major support, with over 180,000 signatures and 13,000 comments from citizens all around the country!
During a recent visit to Washington DC, I had the opportunity to deliver my petition to the USDA. I also voiced my concerns to representatives from my home state of Alabama on Capitol Hill. I know that I've delivered a strong message to the USDA, and I will continue to fight this flawed inspection model for the health of my family, and consumers around the country.