Add your voice!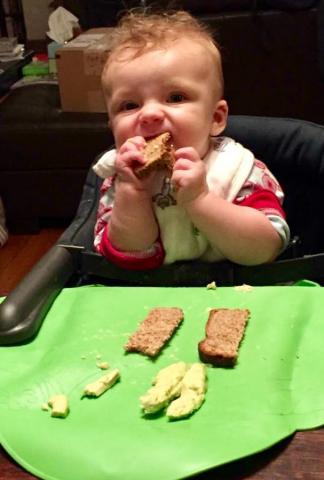 Millennials don't have an avocado eating problem...
Delicious avocado toast isn't why families like mine are struggling financially, as has been ridiculously proposed, but childcare...now THAT is an actual problem.
It's hard to believe that out of touch millionaires like Tim Gurner can even suggest that eating avocados could be a reason that millennial families struggle to afford buying a new home, especially when new data shows that the annual cost of infant care takes up more than half of a millennial's median salary.  Attention: This crisis isn't about avocados. *Reality check to the Gurners of the world?! Families and caregivers need real solutions, not avocado red herrings.
With more than a million millennial women becoming moms each year, things are getting extra real. And single millennial mamas are getting hit doubly hard: 54% of babies born to millennials are by single mothers AND, due to wage discrimination, single mamas earn just two-thirds of what single dads make. We are experiencing a childcare crisis and we need big solutions that work for kids, families, early childhood professionals, and our economy -  not a cost-benefit analysis on out-of-touch and false ideas about avocado consumption.
Thankfully, that solution is already here and it's DE-LI-CIOUS!
The Child Care for Working Families Act, which was recently re-introduced, provides a comprehensive solution that would expand access to affordable, high-quality childcare and pre-K for families while improving compensation and training for the childcare workforce. Yes, it's a delicious solution to a real crisis. If passed, it would:
Lower childcare costs for low-income and middle-income families to no more than 7% of a family's household income through a sliding scale, regardless of how many children they have.

Support universal access to high-quality preschool programs for all low- and middle-income 3 and 4 year-olds.

Significantly improve compensation and training for the childcare workforce (currently one of the lowest paid professions which, again, has nothing to do with avocados) to ensure that our nation's teachers and caregivers have the support they need.

Assist parents in selecting the childcare provider of their choice—whether that be a center or family childcare home, friend, relative or neighbor. In addition, improve care during non-traditional hours to help meet the needs of working families.

Support for more inclusive, high-quality childcare providers and centers for children with disabilities.

Help all Head Start programs meet new expanded duration requirements and provide full-day, full-year programming.
Holy Guacamole! Talk about a no brainer.
*Tell your members of Congress to stand up for working families and co-sponsor and support the Child Care for Working Families Act today!
But it doesn't stop at affordability. This legislation supports high-quality early learning programs, like prek and childcare, for our little ones.
Why is that important? Time to nerd out on some data. First, a growing body of research indicates that what we put in the classroom or care environment greatly determines the educational (and other) outcomes for children -- that is to say, to be highly effective, early learning programs need to have the right mix of high-quality ingredients (like low ratios, rich curriculum and coaching for early learning teachers, and engaging environments) to best prepare our children to be ready and successful in school and life. And high-quality early learning has the potential to prevent the opportunity gap before it even starts. Not to mention that high-quality early learning programs for children boosts our economy and saves the government as much as 13% for every dollar invested through improved results in education, health, social behaviors and employment.
This is a win on all fronts. Period.
And this legislation, unlike Gurner's misplaced avocado advice, recognizes that when so many of us are struggling with the same problem, it's not an epidemic of personal failings (or avocado snacks), but a systemic issue that needs a comprehensive solution like the Child Care for Working Families Act.
To fellow millennials everywhere - eat your avocado toast, and join me in being a powerful voice for children and families!