Mi Campeona: CA Domestic Workers Bill of Rights
Every true champion knows that the road to victory is filled with sacrifice. My mother is no exception.
In the early 1990's my mother, my younger sister and I were living in an inner-city corridor of San Salvador, El Salvador.  After a spike in violence overtook our neighborhood, my mother debated whether there was greater risk in staying in the country or leaving or lives behind for what was promised in the United States.  She knew that the schools in our city could never afford us the same education that the U.S. schools could offer. And with little else than our truck-bed stuffed with clothes, we made the journey from El Salvador to the San Francisco Bay Area.
Like many other immigrant women who are beginning their lives in the U.S., my mom found work as a domestic worker. As a single mother, she supported my sister and I by working as a nanny and a housecleaner for affluent families in Marin and Sausalito.  While she cared for the kids of other families, she could not afford a sitter of our own and so my sister and I would always accompany her at the homes she visited.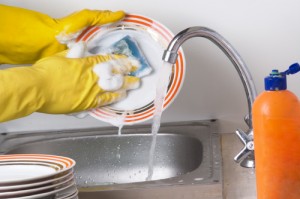 Despite the low-wages she received, my mother managed to sustain us with just enough money for rent and food. Occasionally, she would treat us to a movie in the theaters after work but would immediately fall asleep because of how exhausted she was. She fought on, continuing to work as a nanny while looking for better opportunities to support our family. And after much persistence, she was given a job at a hotel, no longer as a cleaner but as a desk attendant.
As my sister and I grew up during these years, my mother always protected us from feeling the strain of our financial situation. During middle and high-school, while I insisted on working on help our family, she was resolute on making sure that my sister and I gave our undivided attention to school. The same sense of tirelessness, care and optimism that helped my mother navigate our first years in the United States is one that I try to embody every day. Seeing how much heart she put in, and how much sacrifice she took on to ensure that her family had better opportunities than what she had, has given me the passion to want to do the same for my own family one day.
From where I stand today as a young man, a first-generation college graduate and a prospective law school student, and for every accomplishment that is yet to come, I know that I will have one person to thank - my mother, my champion.