Let's Blog4Health! Day Two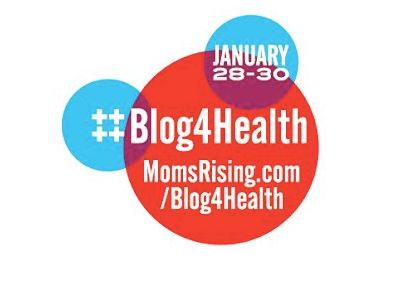 To read more stories, click on "Let's Blog4Health! Day One" and "Let's Blog4Health! Day Three."
More than 10 million people have enrolled for healthcare coverage under the Affordable Care Act (ACA). Yet, millions more are still uninsured, paying too much for health insurance, or unaware that they are eligible for affordable or no-cost coverage.
This is the second day, in which we are partnering with healthcare advocates and bloggers across the country in order to encourage everyone who has signed up for health insurance under the law to share their story and shed light on the process. We plan to disseminate these stories from all different sources by state, and over three days.
Sharing our stories is powerful. It is the reason the ACA was passed in the first place. Stories are equally important to encourage people to enroll in a healthcare plan. Please feel free to share your or your family's healthcare story in the comments section below and share this link far and wide. Together we are a powerful force for healthy families!
National (More than one state mentioned)
"TAKE ACTION: Mythbusting Healthcare Reform", by Felicia Willems, MomsRising.org
"Personal Stories", by Get Covered America
"My Obamacare Story", by MoveOn.org
"Opinion Survey: Small Business Owners' Views on Key Provisions of the Patient Protection and Affordable Care Act", Small Business Majority
"What Has Obamacare Done For Me Lately?", Tumblr
"#GetCovered: Share Your Story", by U.S. Health and Human Services
Alaska
"Obamacare Works", by Elizabeth C., Anchorage, AK, Planned Parenthood
Arizona
"Amid the Uproar Over the Health Law, Voices of Quiet Optimism and Relief", by Abby Goodnough, Katie Thomas and Reed Abelson, New York Times
"Obamacare Works", by Cynthia B., Phoenix, AZ, Planned Parenthood
"I Am Voting for the ACA Because It Saves Lives", by Donna Crane, MomsRising.org
"Getting Signed Up: Cecilia from Arizona", by Sarah Melecki, Consumer Reports
Arkansas
"Jacob's Story: Cheaper Coverage for the Whole Family", by Salim Zymet, U.S. Health and Human Services
California
"Thank You Affordable Care Act!", by Ced Funches, Medium
"Obamacare Works, by Dorian A., Los Angeles, CA, Planned Parenthood
"Wary of Obamacare, some Republicans sign up anyway", by Sharon Bernstein, Reuters
From National Council of La Raza's website:
"Cancer survivor: Obamacare got me covered", by Lori Greenstein Bremner, CNN
"Pre-Existing Conditions and Peace of Mind", by Vivian Nguyen, Young Invincibles
Colorado
"Sick Americans Find Solace in Health Reform's Pre-Existing Conditions Guarantee", by Gwen Ifill, PBS News Hour
"Obamacare Works", by Mollie F., Denver, CO, Planned Parenthood
"My Friend Got Covered Thanks to ACA!", by Molly Wingate, Slow Parenting Teens
"I Am Voting for the Health Care Security of My Son Who Has Cancer", by Tracy C. Heiman, MomsRising.org
Connecticut
"Obamacare Works", by Marianne B., Canton, CT, Planned Parenthood
"Even though I had insurance, I still wanted to help other people get it", by SEIU Communications
Delaware
"The Obamacare success stories you haven't been hearing about," by Michael Hiltzik, Los Angeles Times
Florida
"Florida's Obamacare sign-ups 'a good trend,' HHS chief Sebelius says", by Marni Jameson, Orlando Sentinel
"TAKE ACTION: Have you shopped on the health insurance marketplace?", by Nina Perez, MomsRising.org
"Breastfeeding Could Be Easier with Obamacare", by Ruth Vasquez, MomsRising.org
"Sen. Rene Garcia re-introduces Medicaid expansion bill snubbed by House GOP", by Tia Mitchell, Miami Herald
"State of Union guest from Davie hails Obamacare", by William E. Gibson, Sun Sentinel
Georgia
"Obamacare Works", Barbara D., Newnan, GA, Planned Parenthood
"Beyond Talking Points: How Obamacare Is Saving My Family $33K a Year", by Julia Roberts, Support for Special Needs
Idaho
"Obamacare Works", by Brenda T., Boise, ID, Planned Parenthood
Illinois
From Obamacare Works, Planned Parenthood:
My son died because Obama care was not yet available.

The insurance companies denied him because he had a pre-existing condition. I used up all the money I had, all the value of my home, and all of my retirement pension trying to help him, but when the money ran out, he died. He was only 49. --Patricia H., IL
"Getting Signed Up: Michael from Illinois", by Sarah Melecki, Consumer Reports
Indiana
"Obamacare Works", by Kaye D., Vincennes, Indiana, Planned Parenthood
Kentucky
"How We Got Obamacare to Work", by Jay Inslee, Steve Beshear and Dannel P. Malloy, Washington Post
Maine
"Out of health-care furor, satisfaction in New England", by Chelsea Conaboy, The Boston Globe
"Mainers increasing insurance sign-ups", by Joe Lawlor, Morning Sentinel
Maryland
"I Am Voting to Protect My Son's Health, His Professional Goals", by Teri Kepner, MomsRising.org
Massachusetts
"Young, Broke & Uninsured: One Year After the Affordable Care Act", by Lena Chen, The Chicktionary
Michigan
"LaNika from Michigan", by Kathleen Sebelius, U.S. Health and Human Services
Minnesota
"Abby-Care: Health Coverage for Young Adults Under 26", By Dori Salcido, U.S. Health and Human Services
Missouri
"More small businesses are offering health benefits to workers", by Noam N. Levey, Los Angeles Times
"'It Was Kind of Like Online Shopping'", by Rosetta Okohson, Organizing for Action
Montana
"Obamacare's Unlikely Winners", by Lucia Graves, National Journal
"Letter to the editor: Affordable Care Act feels like I won the lottery", by Mimi Hood Dayhuff, Bozeman Daily Chronicle
New Hampshire
"Affordable Care Act has been great for our family", by Cate Jones, Letter to the editor, SeacoastOnline.com
New Mexico
"It's ACA's First Birthday, but Women with Disabilities are Among Those Getting the Gifts, by Katherine Gallagher Robbins, National Women's Law Center
New York
"I Really Believe in This", by Jarred K., Organizing for Action
North Carolina
"Obamacare is changing my family's life", Kirsten Ozimek, MomsRising.org
Ohio
"Hate Obama, Love Obamacare", by Steven Brill, Time magazine
Oklahoma
"Obamacare enrollment climbs in Oklahoma", by Jaclyn Cosgrove, The Oklahoman
Oregon
"Cover Oregon Enrollee Happy With Health Insurance Coverage", by Kristian Foden-Vencil, Oregon Public Broadcasting
Pennsylvania
"Spreading the word that ACA works", by Robert Calandra, The Philadelphia Inquirer
South Carolina
"Word of Mouth, Website, Help Pick up SC Enrollment in ACA", by Joey Holleman, The State
"The real story of the Affordable Care Act", by Ned Longshore, Organizing for Action
Tennessee
From HealthCare.gov Facebook page: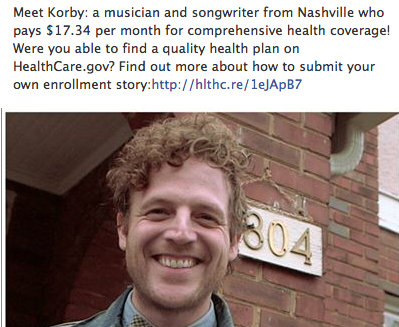 Texas
"Mary Got Covered for the First Time in 10 Years", by Get Covered America
"I Am Voting to Keep My Son Healthy", by Michelle Cunningham, MomsRising.org
"I'll be able to afford that medication every month", by SEIU Communications
"Obamacare sign-ups picking up steam in Texas", by Sherry Jacobson, The Dallas Morning News
"Obama: Ignore critics and prepare to shop for health care insurance", by Suzanne Gamboa, NBC Latino
"Why I Advocate for Medicaid Expansion", by Vernell Simmons, Direct Care Alliance, Inc.
Virginia
"Our Family's Entrepreneurial Obamacare Success Story", by Andrew Culver, Medium
"I Am Voting For a Healthy Future for My Daughter", by Elaine Cornett, MomsRising.org
"Roanoke woman saves big on Healthcare.gov", by Jean Jadhon, WDBJ7.com
"I Can Go to the Doctor Again", by Virginia Lindahl, Organizing for Action
Washington
"Getting Signed Up: Eric from Washington", Consumer Reports
"Washington State is Making Health Exchange Work", by Maria L. La Ganga, Los Angeles Times
"Kristi, a Seattle Chef, Finally Has Health Coverage She Can Count On!", a YouTube testimonial recorded and shared by Roberta Riley:
Washington D.C.
"Obamacare beneficiará a hispanos con diabetes", por EFE, La Opinión
"The Health Care Law at One: Helping Seniors, Like My Dad, Move Forward", by Thao Nguyen, National Women's Law Center
Wisconsin
"Why I Volunteer: The Affordable Care Act", by Patti of Wisconsin, BarackObama.com