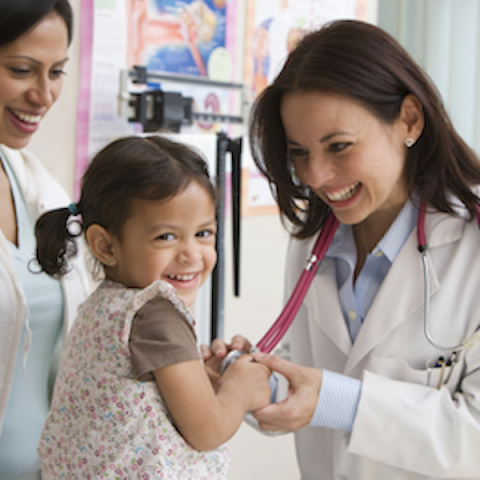 Let's Ask the Questions That Can Save Lives: CYW Releases ACEs Questionnaire to Pediatricians
We as pediatricians and parents have an opportunity to find out what's happening with our children and to intervene to get children the help they need to heal. But we have to ask the right questions.
Here's a lesson that's been learned time and time again: If we want to save lives and prevent unnecessary illness, it's essential to ask the right questions, do good research on the causes of disease, and then take action in ways that can protect lives.
We first learned that lesson way back in 1854, when a cholera outbreak in London killed more than 500 people in just 10 days. Dr. John Snow did meticulous research, asked questions, and found out that nearly all the victims got their drinking water from a pump on Broad Street, which offered up water from the River Thames that had been fouled with sewage from a nearby cesspool. He convinced city officials to remove the pump handle and shut down the pump. Snow's work saved lives—and helped create the fields of public health and epidemiology.
Today, at the Center for Youth Wellness, we are applying emerging science in a new and different way –toward a paradigm shift – just as Dr. Snow initiated for cholera and public health. By asking parents, caregivers and their children just ten questions, we believe we can help children stay healthier and live longer.  That's why we developed the Adverse Childhood Experiences Questionnaires (CYW ACE-Q) and are making it available to pediatricians and primary care doctors throughout the country. Our User Guide provides a brief review of the research literature and outlines how the questionnaire is currently being used at the Bayview Child Health Center and the Center for Youth Wellness.
What are ACEs? They're experiences like being neglected or abused during childhood; living in a household with family members who had drug or alcohol problems, were depressed or mentally ill, spent time in jail, or hurt or threatened others.  Children who have had these kinds of experiences have been shown to have an increased risk of health, behavioral and mental health problems throughout their lives. Thanks to groundbreaking research initiated in 1998 by Dr. Vincent Felitti at Kaiser and Dr. Robert Anda and the Centers for Disease Control and Prevention, we now understand that Adverse Childhood Experiences – otherwise known as ACEs - are commonly experienced and contribute to the onset of health conditions that affect millions of people and are linked to seven of the ten leading causes of death in the U.S.
We know that if children go through these kinds of adversities in their earliest years they are much more likely to experience negative health outcomes throughout the course of their lives.  For young children, this could mean frequent infections, behavioral problems, developmental delays, poor impulse control, and a higher risk of asthma, learning disorders and bedwetting. In adolescents, we often see poor impulse control, high-risk behaviors such as smoking, substance use, early intercourse, teen pregnancy and paternity, depression and anxiety. For adults, early adversity can increase the risk of heart disease, chronic lung disease, cancer and stroke decades later.
The best way to find out what's happening with our children is simply to ask questions—and the best place to ask is in the pediatric office. That's the one place where nearly every child goes for medical attention and pediatricians have a long history of screening their patients for conditions that can impact their health.
CYW is making available our Adverse Childhood Experiences Questionnaires and User Guide to pediatric offices that wish to use them. The questionnaire can be completed confidentially by parents and caregivers of children from 0 to 19 years old or by adolescents aged 13 to 19.  The User's Guide offers background information on the original ACE study findings, the rationale for screening in children, along with suggestions for how staff members can present the questionnaires to parents and teens and how the questionnaires can be scored. We are confident they can help parents and pediatricians to improve the lives of their children and we invite you to use them.
If you are a health care professional interested in using the CYW ACE-Q, go to: http://sgiz.mobi/s3/ab0291ef106d
Originally published at the Center for Youth Wellness blog.