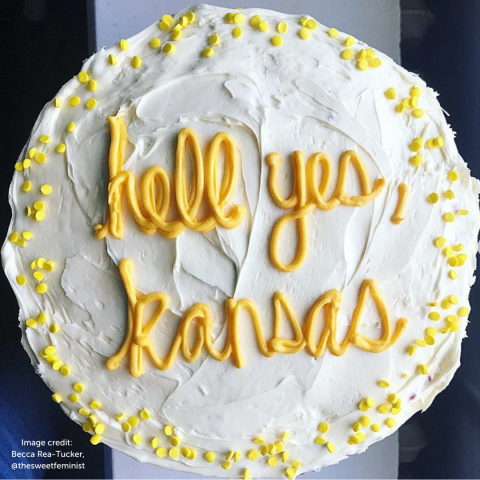 Kansas Got it DONE! Let's Keep the Pressure On for Abortion Care
On Tuesday in Kansas, 59% to 41% of people of all genders came together in record numbers to protect their communities and abortion access in the state to reject anti-abortion extremism and the dangerous post-Roe world the U.S. Supreme Court created. 
The fight for abortion rights in Kansas is years in the making! This is a moment of hope for the future of abortion access in our nation. Let's take this time to celebrate – and double down on activating – so we can have victories like this one in states across the country. Kansas was just one of several states with ballot initiatives around abortion access this year. States like Michigan, Vermont, Nevada, and California will vote on measures that would protect abortion rights and Kentucky voters will decide those that would weaken abortion rights this year. We need support through donations for the next phases of our fight.
*CLICK here to contribute to our Moms Voting Program to help get out the vote in the general election and create a rising tide of change. 
Here's some context → With the Dobbs U.S. Supreme Court ruling, and all of the state anti-abortion laws and restrictions, thousands are currently experiencing immense suffering and chaos across the country. And although we appreciate and applaud President Biden almost immediately stepped in with his Executive Order [1] to defend reproductive rights; we also know they are the starting first steps of many steps to come. As activists, advocates, and people who love someone who may one day need an abortion, it is critical that we continue to build this moment and stay as prepared as we can for what's to come!
We're celebrating now because, by an overwhelming majority, Kansans rejected a world where access to abortion and reproductive are immensely restricted by voting this week to protect access to abortion care in their state. As we celebrate, we also congratulate and thank the remarkable reproductive justice advocates, abortion providers, youth activists, faith leaders, and democracy supporters who came together to form the Kansans for Constitutional Freedom coalition, which worked tireleslly to turn out an extraordinary number of voters in the successful fight to defend the health, rights and autonomy of women and pregnant people. Every level of contribution to help get out the vote in November helps us protect our freedom to decide what is best for our bodies, our families and our future. 
The Kansas vote should be a lesson to all lawmakers at every level who want to strip away our autonomy, our right to be free and equal members of society, and our ability to access the reproductive health care we need. That is not what the country wants. 
This is so important. Most people who have abortions are moms, and moms want abortionare to be accessible to all who need it. Being able to choose if we have children, and if so, when and how many children to have, which includes access to abortion care, is a fundamental right. Reproductive rights are human rights. Forced births and denials of health care are never okay.
Thank you for all you're doing to raise your voice, spread the word, contribute, and create change. It all adds up and is working!