It's time for this madness to end.
Here we are again. Another Equal Pay Day to mark how far into this year that women have to work to earn what men already earned last year for the SAME work.
This makes me want to bang my head on my desk in frustration.  Which I will do: Once.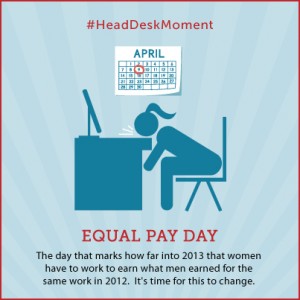 And then it's time to pick up my head and keep working towards paycheck fairness. For myself, for my family – especially my two young daughters (almost 4 and one-and-a-half) because if we don't act, the wage gap won't close until 2057 – that's 45 years from now!
We can't wait that long. Equal Pay is very important to moms and families.  At MomsRising, we hear, every day, from women who have experienced wage discrimination.  In fact we've have enough stories to fill a book! I want to highlight a few of these stories today.
Stories like this one from Cynthia in Massachusetts:
I was working as an Assistant Account Executive at an advertising firm in New York. At an employee birthday celebration it became obvious how many women were working for the Executive Director. I asked him why he had so many women working for him. Without missing a beat he replied, "I can pay them less." I was 23 and shocked. I hadn't learned that I was less valuable than a man yet.
And this one from Adrienne in Boca Raton, Florida, who shared,
I worked for a major computer company for many years and when I was hired I was told that to disclose your salary information was grounds for dismissal. Since that time, I realized my male counterparts made more than I but had no written proof. No confirmed way I could challenge their system. A fellow employee, female, who did not receive timely salary increases was told she did not need a wage increase because her husband was well employed. When the wives of males in the dept had a new baby, there was an opportunity for them to receive a bonus or an award. I thought it was a joke but after a while, I began to see the trend.
Judith from Janesville, WI wrote
I have been told – to my face – no less than 3 times during my adult life that when a particular job I had applied for or wanted to advance to had come down to two candidates (me and a man). The man "had" to be selected because, after all, he has a family to support.
Yes, we need the Paycheck Fairness Act signed yesterday.
The wage gap hurts everyone. But in particular, it hurts moms. Mothers like Betty, from Sarasota, Florida who said,
To say mothers and families are struggling right now--and need equal pay for equal work to help keep their families afloat--is an understatement.  With the cost of raising a child to age 18 these days at over $200,000 per child (this does not include college), mothers' wages are increasingly needed to make ends meet.  And, not surprisingly, at a time when the cost of raising children is so high, three-quarters of moms are in the labor force.
The wages of women and moms are increasingly relied on by families to put food on the table, and getting equal pay for equal work is not only the right thing to do, it would go a long way toward helping family economic security and putting the nation on the road to economic recovery.
Let me end with this story from Ginger in Arizona:
 I have been a single mother for 15 years and made 60 cents on the dollar to my male counterparts. I have been discriminated against and I work for a federal contractor. We have to bring equality to pay and support American families. In my community over 50% of households are run by single mothers and we make the least amount of money than any other group. The only way companies will make changes is through legislation.
I think Ginger sums it up perfectly. It's time to move forward!  Join us here: http://action.momsrising.org/sign/EqualPayDay_2013/