I Wish ACA Had Been Law When I Was a Student
Now that I am the mother of two children, sons aged 2 ½ and 11 months, I am grateful for a law like the Affordable Care Act.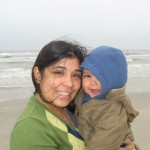 When I was 21, I "aged out" of my parents' insurance because I was no longer in school full-time. My first job after graduating from college provided me with insurance but when I decided to go to law school, I was faced with an ugly truth - I could not afford health insurance.  Fortunately, I was healthy and accident-free.
Then during my first year of law school, at the age of 24, I was playing intramural basketball with friends and tore my anterior cruciate ligament (ACL), one of the four major ligaments of the knee. Because I was uninsured, I was unable to undergo reconstructive surgery or receive any physical therapy.
Three years later when I obtained health insurance through my job, the health insurance company would not pay for reconstructive surgery because it was a "preexisting condition." Today, 8 years after my injury, I wear a brace when I play sports. My knee still wobbles when I walk downstairs and hurts after running. While I've been blessed to be able to rehab my knee to a condition near normal, I can't help but wonder how much the surgery would have helped.
Now that I am the mother of two very active sons I realize how important medical insurance is. We've already had countless scares with my two-year-old from an urgent care visit for a fall to the average ear infection or cold.  While more needs to be done to improve on the Affordable Care Act, at least I know that my sons can remain on my insurance until they are 26 or they are able to obtain their own. For that, I am grateful.
Bernadette Segura is the mother of two sons and lives in El Paso, Texas.