I Am Voting for My Daughter's Health, Her Future Financial Security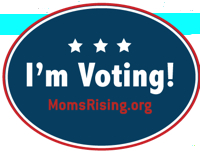 I am the mother of two girls. My daughter Jennifer is 27-years-old and a third year law school student. My daughter Julie is 25-years-old. Julie's life has been filled with numerous road blocks.
Julie had her first heart procedure at age 12 and the last 13 years have been filled with many ups and downs, including losing her father when she was 15. Despite her numerous health issues, Julie was still very active as the captain of her softball team, captain of her tennis team, student council member, and an active community volunteer. As you can imagine, I think she is amazing.
Like many young people her age, Julie dreamed of going to college and having a successful career in business. Her efforts were derailed about three years ago when she started having multiple system disorders and started blacking out. There were days when she only had the energy to crawl to the bathroom.
The worst for me was every time I called Julie on her cell phone and she didn't answer I feared she had blacked out somewhere and injured herself. Many times she had. Concussions, bruises, broken teeth were part of our routine. Worry and anxiety became a part of my everyday life.
Just as her condition was becoming severe, her insurance was due to end due to her age. However, because of the new Affordable Care Act provision allowing young adults to stay on their parents' plan until age 26, Julie was able to get the health care she needed.
In early 2011 – just weeks after Julie would have been uninsured without the Affordable Care Act – she received a pacemaker to treat third-degree heart block which could result in sudden cardiac arrest. The day after the pacemaker was inserted, she looked and me and said, "Mom, look at my fingernails! They are pink!" It had been a long time since blood had reached her extremities.
Holding her warm hand after surgery warmed my heart. As I stared at the heart monitor now pulsing with a regularity I hadn't seen all week, I swear I could see the changes in her face as the blood seemed to be bringing the needed oxygen to every part of her body.
It's been over a year now since she got her pacemaker and Julie is working full time. Because of the Affordable Care Act, she will not have to worry about being denied insurance because she has had the misfortune to have a cardiovascular disease. And she is not alone. According to the American Heart Association, one in three adults in the U.S. has some form of cardiovascular disease.
She is a beautiful grown young woman but to me still my baby girl and deserving of affordable health care. I just want to go to sleep at night knowing that in this wonderful country called the United States of America, with all of the brilliant health care providers that we have here, my daughter can get health care when she needs it.
That's one of the biggest reasons why I'm voting in the November elections.
Check out why other MomsRising members are voting on our cool interactive map. Don't forget to share your story!