I Am Voting For My Daughter's Health Care Security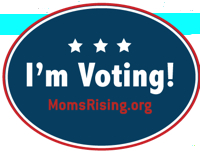 When you are the mother of a child with severe disabilities you can't help but worry about what's going to happen to her once you are gone. When she is your only child, and you have no other children or relatives who are likely to survive you and care for her, it feels perilous. You really hope your society has a good social safety net. That is one reason I am voting in the November elections.
My daughter, Freya, is 18 years old and has severe intellectual disabilities and moderate physical disabilities. She needs assistance with nearly every aspect of her life, from changing her diapers to eating to getting around the community. Helping her meet her needs has been transformative and enlightening, and also deeply challenging.
Medicaid has helped immensely.
I had my daughter when I was 20 years old, a sophomore in college. As a single mother of a profoundly disabled child, I completed my undergraduate degree and a Ph. D. in physics. I am proud of that, and I could not have done that without Medicaid to provide for my daughter's medical expenses.
But what will happen to her coverage if Medicaid is cut? Or worse, turned into block grants, meaning the money that goes to states will not keep up with the need? Because Medicaid is an entitlement program, everyone who is eligible is guaranteed a spot; that would not be the case with block grants.
As Freya's mother, it keeps me up at night. Medicaid is the main source of care for millions of people with disabilities like my daughter. She and others like her are deserving of a long and dignified life.
This November, I'm voting for my daughter's healthcare security.
Check out why other MomsRising members are voting on our cool interactive map. Don't forget to share your story!