I Am Voting For a Healthy Future For My Daughter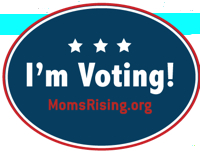 I am committed to voting this November so my daughter continues to have the healthy future she deserves.
Our daughter has Type 1 Diabetes. It's a chronic, life-threatening disease.
Thanks to the Affordable Care Act, I no longer worry that she'll lose coverage or be denied coverage in the future because of her "pre-existing" condition.
Having my child lose coverage has been a serious and constant concern for me since my daughter was diagnosed when she was three years old. At diabetes support group gatherings, I've talked to countless parents who have had difficulty getting and keeping their child insured in the past. Several of the people I've talked to at these gatherings have moved or changed jobs, only to find that the subsequent change in their insurance plan means their child is no longer covered for Type 1 Diabetes care.
As a mom, there is nothing more valuable to me than my child's future and, for this reason, I will have my family's healthcare security in mind as I vote next month.
Please join me in voting this November!
Check out why other MomsRising members are voting on our cool interactive map. Don't forget to share your story!