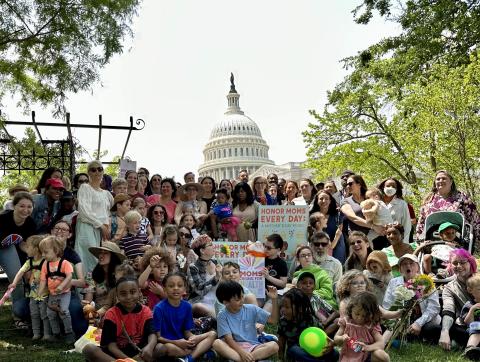 Honor Moms Every Day Mother's Day Picnic! 
MomsRising had a powerful Honor Moms Every Day Mother's Day Picnic on Wednesday honoring moms across the country and sharing with the lawmakers the policies that parents and caregivers need every day to thrive. Our fun-filled day included teddy bears, picnic baskets, rideable foxes, bubbles, and lots of fun activities for kids of all ages, as we met with members of Congress to tell them what moms, dads, caregivers, and families really need.
"We're counting on [Congress] to reject irresponsible cuts and and instead build the care infrastructures families need!" - Danielle, MomsRising member from New York
We rallied together with elected leaders, advocates, champions, caregivers, and families to lift up policies that support families like paid family and medical leave, fair taxes, child care, immigrant rights, health care, mental health care, gun safety, maternal justice, youth & family justice, and democracy protection. We want to thank all our wonderful members for joining our inspiring day to honor our moms and stand for policies that lift families!
"Thank you MomsRising for all you are doing and what you have done! We celebrate this week of Mother's Day best by doing something great for moms: child care, family & medical leave, home health care workers, universal pre-K... the list goes on and on." -  Speaker Emerita Nancy Pelosi
Check out the highlights on Instagram and Twitter (be sure to expand the conversation to see Tweets from members of Congress) below. Head over to our YouTube page to watch the full live stream of our incredible event. And read more about our top priorities in English and in Spanish we advocate for families to thrive!
We want to thank all our elected leaders that joined @MomsRising's #HonorMomsEveryDay Picnic. TY for being champions for our families (and for playing with the kids on the Capitol lawn!). https://t.co/Tb4G9BcPcp — MomsRising (@MomsRising) May 18, 2023