Children Are What They Eat
In a society plagued by obesity, with three out of the five top causes of death in America related to lifestyle choices, it's time we did something to save the future generation.
The USDA (United States Department of Agriculture) made great steps in this direction over the summer by passing the new nutritional standards for lunch and snacks. But, children, and parents alike, still need to learn how to love and prepare healthy foods. As I mom of two active boys, I want to see them live long, happy, healthy lives and I want to be an active part of their lives.
Life is unpredictable and there are numerous uncontrollable variables but we can control our food and activity levels to some extent. But teaching my kids to eat healthy is no easy task. The limited number of foods they would eat became frustrating compared to the plethora of junk food they would request on a daily basis. So my search for more healthy foods my kids and husband (he is not an easy one either) would eat began.
Our first family project this summer to eating healthier was planting our organic garden.
My children (and my friend's kids too) loved picking the peas fresh from the stalk and munching on them. They were even willing to eat a vegetable soup with leeks, acorn squash, parsnips and oatmeal because it contained green beans they harvested that morning from our garden. In short, the kids were excited to try new foods from the garden they planted and vegetables they picked. But that was not the only success, vegetables straight from our garden tasted so much better than anything we ever bought and we got exercise and spent quality family time gardening, digging, watering and caring for our vegetable patch.
Our second project was cooking fun meals together.
For example one night we made a pizza from scratch. We chopped home-grown tomatoes for the sauce, used whole wheat flour for the dough and topped it with fresh peppers from the garden. I don't know if it was all the love that went into that pizza or just the fresh ingredients but the entire family could not get enough.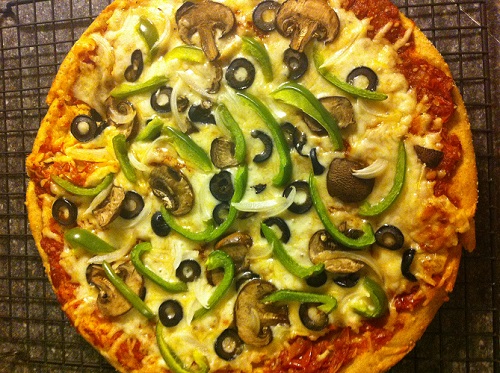 As summer is coming to an end and we are buying more of our produce, I notice my kids are still eager to try new foods. Last week we made hummus together and when I was telling my 5 year old hummus has a lot of protein my two year old son flexed his muscles explaining he would get strong from eating protein. Then it hit me. It was not just the gardening and cooking together that encouraged my children to eat healthier foods, it was the education they got while we discussed the benefits of the foods they were eating. They were able to make a connection between their choices and their health, the real force behind the healthier eating.
How does all this tie into school lunches?  The USDA made positive changes, with numerous health benefits, but forcing children to eat healthy is not enough. They can still get the junk everywhere else.
The key to getting children to eat healthy is education.
In addition to the new healthier standards, parents and educators need to work together, and teach children, in an exciting way, how foods affects their body. Planting gardens, fun nutrition workshops, cooking classes where kids eat what they make, and presenting foods in a fun fashion are just a few ways to get children on the right path to making healthier choices.
The USDA did not just increase the quality of the food kids eat at school; the USDA gave them a better chance at a healthy life. It is time we do our part too.
This post is part of the National School Lunch Week with Healthy Food! A MomsRising Blog Carnival. Take a moment to read and comment on these thoughtful blogs, then tell us your story. Our stories are powerful and are what led administrators to set these rules in place.