Beyond the Green Card: Helping Immigrant Women Use Their Professional Skills
Photo courtesy of Upwardly Global.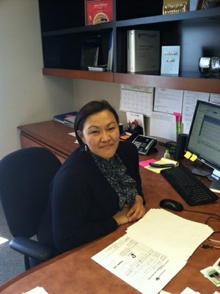 When Munara left her home and sought asylum in the US, she thought that she would find opportunities that had been denied to her in Kyrgyzstan because she was a woman.
Instead, she struggled to find professional employment -- despite having a master's degree and experience as the head of the English Department at her country's leading university.
Munara spent four frustrating years working as a taxi driver to support herself and her daughter. All the while, she continued to search for more professional employment.
Munara is a skilled immigrant, but not the kind that we hear about the news. Unlike H1-B workers and others who arrive in the US on employer-sponsored visas, she came to the US without an identified job offer. Though legally present, with full work authorization, she nevertheless struggled to communicate her experience and credentials to prospective employers.
Tens of thousands of women like Munara exist in communities across the United States.  Though educated as doctors, engineers, and lawyers, they may be working as cashiers, nannies, or housekeepers. Their international credentials hold value in the US, but many struggle to unlock that value and communicate it to American employers.
As Comprehensive Immigration Reform moves forward, it's vital that we plan for what comes after the green card. Gaining legal permission to be in the United States is a crucial step -- but it's only one part of helping immigrant newcomers to become integrated in our economy.
The nonpartisan Migration Policy Institute estimates that there are over 1 million immigrants in the US today whose skills are underutilized (sometimes termed "mal-employed").
Women immigrants are the most significantly affected, as illustrated in a separate analysis of college-educated immigrants by labor economists Paul Harrington and Neeta P. Fogg of Drexel University. Their study found that mal-employment for women immigrants educated outside the US is 28% higher than for their male counterparts. 
Yet American employers and communities need these women's talents. Their expertise in fields such as scientific and medical research is urgently needed to help US companies compete globally. Similarly, those who have experience in public health and possess multilingual abilities are vital contributors in providing healthcare to an increasingly diverse American population.
Fortunately, there are solutions. My organization, IMPRINT, is a coalition of nonprofit organizations working to facilitate the integration of skilled immigrants. Our member organizations include the Welcome Back Initiative, which has 10 community-college and nonprofit centers around the US that help internationally trained health professionals to begin their American careers.
There is a happy ending to Munara's story. After four years in the US, she connected with another IMPRINT member, Upwardly Global. With Upwardly Global's help, she quickly obtained a position as a medical interpreter, then was promoted to become the Operations Manager for the same company.
Her new role comes with a family-sustaining salary and benefits, while allowing her to spend time with her daughter.
As Comprehensive Immigration Reform moves forward, it's vital that we keep in mind the contributions that women like Munara can make – if given the chance.  Because when they succeed, our entire nation benefits.