Ask the President to Keep His Promise to Home Care Workers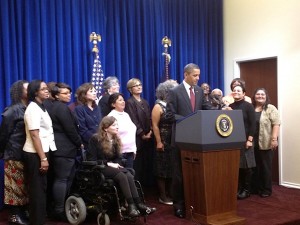 A year ago this week, President Obama announced an initiative that would have a profound impact on mothers and daughters across the country. At a press conference, surrounded by a dozen women who assist—or are assisted by—home care aides, President Obama announced that he was going to end the exclusion of these workers from federal minimum wage and overtime protections.
"They deserve to be treated fairly. They deserve to be paid fairly for a service that many older Americans couldn't live without. … We're going to do what's fair and we're going to do what's right," the President said.
One year later, home care workers are still waiting for fair pay. A final rule, ending the exclusion of home care aides from the Fair Labor Standards Act, has not yet been issued.
Help us urge the Obama administration to move forward with the proposed rule, by signing our petition at www.companionshipexemption.com.
Here are three reasons why you should take this action today:
Home care workers can't wait. About 40 percent of home care workers live at or below 200 percent of poverty and rely on government benefits to make ends meet. This year alone, these workers have lost over millions of dollars in overtime pay that could have been used to support their families.
The cost of paying home care workers a FAIR WAGE is minimal while the benefits are large.  Better wages for home care workers will reduce turnover—a problem that plagues families trying to provide consistent care to frail elders. In addition, without basic labor protections, there will not be an adequate supply of skilled, compassionate caregivers to support our aging population.
As the fastest-growing occupations in the nation, home care jobs can help rebuild our economy.  When low-wage workers (home care workers average $9.70/hour) get a raise, they spend the money in their communities. That means more economic activity and more jobs for Americans out of work.
Remind President Obama today to keep his promise: extend minimum wage and overtime protections to home care aides today. Go to: www.companionshipexemption.com and sign our petition.