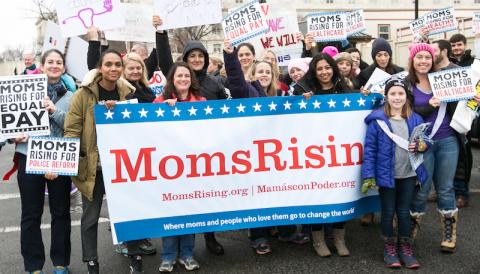 America's Moms Welcome President Joe Biden and Vice President Kamala Harris and the New Era They Bring
Today in America, hope and promise replace fear and division. This new day ushers in a new era in which we will mourn our losses, heal our wounds, rebuild our communities, and move toward realizing the promise of a country in which we come together to help each other thrive. Even as Joe Biden and Kamala Harris were being sworn into office, they had already offered hope and solutions to the pandemic and the economic devastation it has wrought, and for an end to the violence and division that have no place in our democracy.  
The new administration is led by two people who are smart and compassionate: the first Black, South Asian woman and self-described "Momala" who is the first woman and woman of color ever to serve as vice president, and a head of state who knows from personal experience the kind of loss and pain the country is experiencing. American's moms will stand with President Biden and Vice President Harris and help them craft, win and implement the priorities our nation needs -- even as we remain vigilant and determined to stamp out white supremacy and bias in all their forms.
Make no mistake: Moms powered this change and we aren't done yet. America's moms will partner with the new administration and allies in Congress and in statehouses across the country to win the transformative policy reforms we urgently need. Yesterday we memorialized the 400,000 people we have lost to COVID-19 -- a pandemic and a presidency that have disproportionately harmed Black, Indigenous, and people of color -- and today we finally begin responding with smart programs and policies, and by supporting and protecting each other in our workplaces, our schools, our nursing homes and prisons, and throughout our communities.
We commend the new administration for its quick action to end the Muslim ban and the ban on transgender people serving in the military; and for introducing legislation to help those facing hunger and eviction and provide paid leave, direct relief, unemployment benefits, support for our struggling child care system, health coverage, other essential measures. We applaud the Biden/Harris actions to advance racial and economic justice and create an immigration system that values human dignity, family unity, and community prosperity and well being. 
Even as we celebrate President Biden and Vice President Harris taking office today, we understand there's an immense amount of work ahead. The moms of America are keeping our sleeves rolled up to help advance the transformative change our families, economy and country need.
***
Reporters: See this statement in our Newsroom