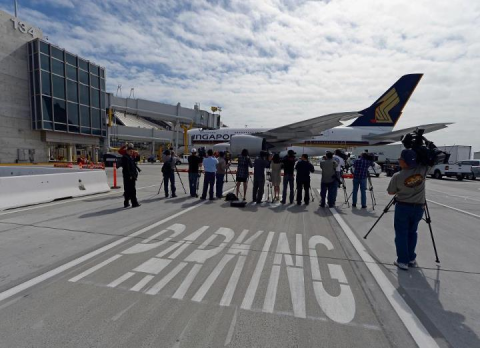 A tough cookie's pregnancy journey
Pregnancy made me feel like a superwoman.
I was a working reporter when I first found myself become pregnant. Six weeks into my pregnancy, the space shuttle Endeavour made its last landing at Los Angeles International Airport (LAX). The press lined up as early as 2AM to secure a spot in order to catch a nice footage. I was among them. When the space shuttle finally landed at 1pm, I have been stood there for 11 hours straight without even one bathroom break. I had heat stroke and was a little dehydrated; I thought I might lose my baby.
But I didn't. We made it to 32 weeks. I had a business trip to Mexico to cover a story about the smuggling industry. The U.S. Customs and Border Protection Officer who accompanied me stared at my bump and asked, "Are you sure you want to do this? What did your assignment editor say about it?"
"Nothing." I said, "Why?"
I wouldn't say that I was discriminated against. My employer didn't refuse to accommodate me with pregnancy-related needs. In fact, I never asked. I was blessed with an easy pregnancy. The thought of reasonable accommodations that a pregnant worker might need just never came to my mind nor brought up by my supervisor.
I was 35 weeks pregnant when the then Los Angeles Mayor Antonio Villaraigosa hosted the press conference to unveil a $229-million overhaul of Delta's LAX terminal. I stood with a dozen of my colleagues in waiting for the mayor's speech. Suddenly, the LAX spokeswoman pulled a chair to the front and waved to me, "Come on, To-wen! Your baby is coming anytime now. You'd better grab a seat!"
So all eyes, including the mayor's and the LAX CEO's, were on me when I stumbled to the chair and sat down. I tried to cover my belly with a notebook, feeling a little bit embarrassed yet very grateful and touched.
I literary worked up to the last minute until my delivery and even wrote two articles while waiting for dilation on the hospital bed. My doctor came in and said, "you are such a tough cookie."
I was a dedicated worker and my employer took it for granted. I didn't realize that my hard work was not appreciated and my right as a mother was not protected until later when the company refused to offer lactation accommodation.
My pregnancy journey made me feel like a superwoman. But mothers really shouldn't have to risk her and her baby's health to feel super. It is unfortunate that women still experience discrimination on the job when they become pregnant. That is why I am so thrilled about the introduction of the
Pregnant Workers Fairness Act
. 
The Act will require employers to make the same sort of accommodations for pregnant workers that are already made for employees with disabilities. These accommodations are simple things like being able to sit down on shift or extra water breaks. Once passed, it'll guarantee the fair treatment for pregnant workers and keep working families healthy. It is very important. When a woman is forced to choose between her job and the health of her pregnancy, she could be left without a paycheck at the moment she needs it the most, thus the dire consequences for her family's economic security. Providing workplace accommodations to pregnant women who need them will allow many of these workers to continue safely working during pregnancy, supporting their families and contributing to the nation' economy.