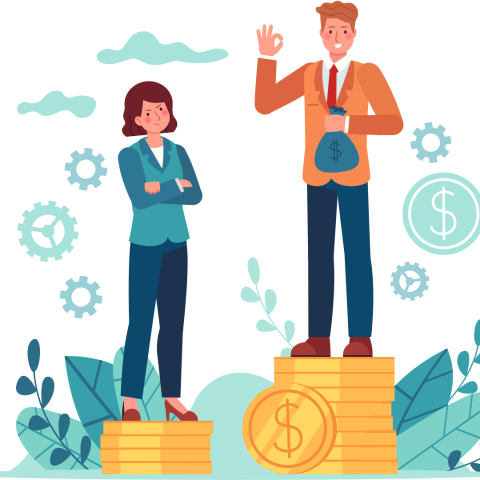 60 years of the Equal Pay Act and we STILL don't have pay equity
It's been so hot lately, but today we're heated for an entirely different reason.
Today is Moms' Equal Pay Day, marking the fact that moms – across race and ethnicity – must work until August 15th of 2023 to earn what dads made in 2022 alone. Of course, averages alone don't tell the whole story because, due to structural racism, moms of color face much larger wage gaps when compared separately. It's beyond frustrating that this year we celebrated the 60th anniversary of the Equal Pay Act becoming law, yet we STILL don't have pay equity.
But there is hope: We know how to close the wage gap and you can help! In fact, with the passage and implementation of the Pregnant Workers Fairness Act earlier this summer – which helps close the wage gap for pregnant and postpartum workers by protecting them from discrimination and keeping them in the workforce longer by providing reasonable workplace accommodations – we're already off to a great start. And there's more we can do to close the gap. We need Congress to swiftly pass:
Paycheck Fairness Act, which would modernize and strengthen the Equal Pay Act of 1963 to better combat pay discrimination and close the wage gap, including by protecting workers from retaliation for discussing pay, banning the use of prior salary history, and codifying pay data collection;
Healthy Families Act, which would set a national standard for paid sick and safe days to allow workers in businesses with 15 or more employees to earn up to seven job-protected paid sick and safe days each year, and;
FAMILY Act, which would provide workers with up to 12 weeks of partial income when they take time off from work for their own serious health condition; the serious health condition of a family member; the birth, foster placement, or adoption of a child; to address the effects of domestic violence, sexual assault, or stalking; and for certain reasons related to military deployment.
*Tell Congress: Pass the Paycheck Fairness Act, support paid sick days, and pass paid family and medical leave!
We know these policies work! In fact, the United States just tested out national paid sick days and paid family and medical leave in 2020 in response to the COVID-19 pandemic. The program was highly effective at protecting public health, workers benefited from wage replacement and the ability to keep their jobs, and workers who took leave also reported greater peace of mind [1]. The programs also helped businesses and the economy by helping workers stay in their jobs so supply chains and business practices weren't disrupted; and also by lowering recruitment and retraining costs for businesses. Now that the sun has set on this emergency program, we see how permanent programs could help us prepare for future public health emergencies and protect workers and their families.
Moms' Equal Pay Day is an important reminder that over three-quarters of moms are breadwinners or co-breadwinners; [2] and that equal pay for moms is pivotal for lifting families out of poverty and boosting our national economy.
This is a big deal. Overall, moms across all races and ethnicities are currently paid just 74 cents for every dollar paid to dads. But that doesn't tell the full story, because for many moms that wage gap is way worse than 74 cents to the dollar. Latina moms make just 51 cents, Native moms make just 49 cents, Black moms make just 53 cents, White moms make just 73 cents, and AAPI moms make just 93 cents compared to white, non-Hispanic dads. (Although if you further disaggregate the data for AAPI moms, many AAPI communities make far less). [3]
The gender wage gap persists across most fields, regardless of education or occupation, even in occupations that men and women are represented in or when women are overrepresented, they likely experience a pay gap. [4]
Breadwinners shouldn't be left with just crumbs! Urge Congress to PASS the Paycheck Fairness Act and advance paid leave!
The fact is that motherhood is a greater predictor of wage inequality than gender. In other words, the gender pay gap is largely due to motherhood – even if a woman ISN'T a mom, studies show the fact that she could potentially become a mom contributes to unequal pay. [5]
This is not right. Moms and their families need better workplace protections like the Paycheck Fairness Act, earned sick days, and paid family and medical leave – and businesses and our economy need this too. After all, women and moms make the majority of consumer purchasing decisions in a country with a GDP that's fueled by consumer purchasing. So when moms don't have funds to spend, we all lose out. Because of this, studies show that if women and moms did have equal pay, then our entire GDP for our nation would be lifted by 3% to 5% and half of children would be lifted out of poverty! [6] Equal pay is a win-win.