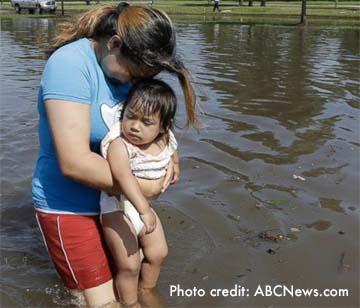 #5Actions of the Week: September 2, 2017
Dear friends:
It's another big week. Hurricane Harvey has brought widespread devastation to millions of people and businesses. And rumors are that President Trump is planning to repeal DACA - the program that protects over 800,000 DREAMers - any day. At times like these we need to stand together.
Below please find our top actions for the week, including on DREAMers and emergency funding for Harvey victims. As always, your voice REALLY matters. Please act and share.
Thank you for all you do.  
1. Tell Congress: Pass emergency funding for Hurricane Harvey victims NOW!
BACKGROUND: Hurricane Harvey tore through the southern Gulf States, leaving destruction, damage, and fear for millions of families. While rescue missions are still taking place to save those trapped in their homes, we know that recovery from this historical storm must begin immediately. We are asking Congress to appropriate additional emergency funding for those areas affected by Hurricane Harvey immediately, with special attention to the needs of low-income and vulnerable people and communities, so families, businesses, and communities can begin the recovery effort.
2. All Hands on Deck for DREAMers!
BACKGROUND: DACA is in danger. Stand with young adults who have been here since they were children by protecting the path to citizenship for Dreamers! Dreamers are young adults who were brought to America as children and raised in this country. As U.S. Senator Schumer stated, Dreamers are "Americans in every way but paperwork".Two ways you can take action:
Join us in asking legislators to stand with Dreamers and support Dream Acts currently under consideration in the House and Senate. DREAM Act is a strong bipartisan legislative solution that would allow 1.8 Million DREAMers - young people who were brought to the U.S. as children without documentation - to continue living their American Dream with a path to legal status. Join us in urging Congress to do right by DREAMers and make the DREAM Act 2017 a reality for these young people who have contributed enormously to our communities and economy.
Write a Letter to the Editor of your local paper. Local letters to the editor are EXTREMELY effective ways to get the attention of members of Congress. Help us make some noise that will be heard all the way from your town to Capitol Hill in Washington, D.C. by writing a Letter to the Editor that urges your members of Congress to support building strong and welcoming communities.
3. Tell President Trump: Don't sabotage health care!
BACKGROUND: As threatened, President Trump is trying his best to "let Obamacare implode." Indeed, through deliberate acts of sabotage, the Trump administration is purposefully driving up health insurance premiums to undermine the Affordable Care Act (ACA/Obamacare)! President Trump has repeatedly threatened to terminate payments to insurers for subsidies that help low-income families afford the high cost of health insurance. The Congressional Budget Office (CBO) found that terminating payments for cost-sharing reductions would increase premiums next year by 20 percent (20%!!) and by 25 percent in 2020. This careless and irresponsible policy decision would also increase the federal deficit by $194 billion and drive some insurance companies out of the individual market completely, leaving 5 percent of the population without access to any nongroup insurance plans. An estimated 1 million people would lose coverage in 2018 due to lacking any insurance carriers in their area. These are our friends, family, and neighbors. Our health care is not a political football to be leveraged for political gain, and these callous threats must stop.
4. Read and Share our Guides on How to Combat White Supremacy and Anti-Semitism 
BACKGROUND: It's time to stand up with courage, clarity and integrity against white supremacy and hate politics. None of us can stand silent. Just look at what happened in Charlottesville, Virginia. The diversity of our nation is what's made our country strong, innovative and prosperous; and we can not watch silently from the sidelines as the core of our nation's strength and values are attacked. Please read and share these important resources on the role we can all play to keep the conversation and stand up for what *really* makes America great! 
5. Share Your Birth & Maternal Health Story
BACKGROUND: The U.S. has one of the worst maternal mortality rates of any developed nation. There are also scary racial disparities. In the past 5 decades, Black women have consistently experienced an almost 4-times greater risk of death from pregnancy complications than White women. This increased risk is independent of age, parity, or education. This is why we need YOUR story. Have you experienced health complications related to birth before, during or after delivery? Have you or someone you loved gone through a traumatic birth experience? Have you experienced unsatisfactory care or access to care when it came to maternity and/or birth? Share your thoughts and experiences with MomsRising and we'll include it in materials we use to educate our nation and decisionmakers about the maternal health problem in this country as we work to ensure that the health of women and their children are made a priority!  
 Thank you for all you do, superheroes! #KeepMarching!