Food Tips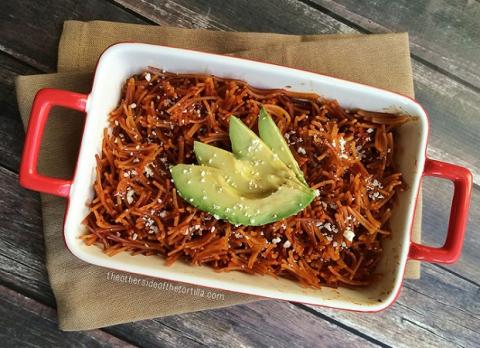 11 Tips to Help You Save on Groceries
I wasn't much of a cook when I was younger. I admit it, I loved eating out.  It was my biggest expense. Now, that I am older, with two sons who would eat me out of house and home if I let them, I realize that I can't eat out as often as I once did. And, I don't want to. Our bonding as a family has happened in the kitchen and at the dining table. The kitchen is where they run when they arrive from school, while the dining room has heard more gossip and school dramas than Gossip Girl ever featured.  This bonding happened while they grabbed finger foods from the fridge, snacked on baked plantains while doing homework and ate a dinner that surpassed any they could eat at a restaurant – not because of the price but because of the love that came with it.
I treasure each and every one of those moments. Not only do I get to share a piece of their day, but I know they are eating healthy foods that I was able to buy at a fraction of the cost.
As a frugal single Mom, I'm the first to suggest cutting expenses; however, healthy foods, unlike other expenses, cannot, and should not, be eliminated from your budget. We should never compromise the quality of our foods to save money. If we do, we'll pay for it in the long run via health issues. You can, however, cut costs by following the below 11 Tips to Save on Groceries.
If you have any other suggestions, feel free to note them in a comment below!
Shop Around
In my neighborhood, milk is expensive – normally $5 and up at the supermarket. Yet, I've discovered that our local drug store sells milk for $3.99 and it's organic to boot! Talk about win-win! I've observed this happen several times. Water at our local gas station is cheaper than the nearest big box store, while the bodega/corner store has cheaper plantains and wheat bread. Think outside the box and shop around! A dollar or two every week, or in my case every two days for milk, adds up fairly quickly. Personally, I prefer having it add up in my bank account where it can earn interest.
Buy Small, Save Big
I am all about the coupons! I'm not an extreme couponer, but I have learned a few ways to get the biggest return on each coupon.  One way to save big is to buy small. Purchasing the smallest size possible of the item noted in the coupon will help you get the biggest discount. Don't believe me? Check out my example below.
Small package of cheese (8oz):  $2.99
Large package of cheese (16oz): $5.99
Coupon: 50¢ off
Subtract 50 cents off the price shown above for each item. Now divide it by the number of ounces per package. Rounded off you pay .31 per ounce with the small package and .34 per ounce with large package. Based off this scenario, if you purchase the smaller package you will pay less per ounce.  Now, repeat after me: Bigger isn't always better!  
Fresh Costs Less
I use to love pre-packaged mashed potatoes until one day a good friend served us her homemade mashed potatoes. The boys ate double servings that night. It was amazing! And it cost her less than it would have cost me to buy, and prepare, two boxes of pre-packaged mashed potatoes.
In most cases, fresh costs less than prepackaged, processed foods. Not only do you pay less at the register, you're avoiding the extra sodium and fat that is normally added to the package; thereby, avoiding any future health problems that would cost you more in the long run.
Frozen Vegetables and Fruits ROCK!
Three reasons frozen rocks: (1) Spoiled vegetables and fruits are wasted money (2) Frozen is cheaper than fresh out of season veggies and fruits. (3) Some frozen vegetables and fruits retain more vitamins.  
Case in point, I love spinach. My sons emmm not so much. But they will unknowingly eat it when I add it to chicken stew, beans, or rice. If I were to buy fresh, I would waste money. It would spoil before we had a chance to use it, if they ate it at all.  However, if I buy a package of frozen spinach, I can use it over the next few months.  Plus, vegetables and fruits are frozen at their peak freshness, ensuring they retain all their delicious goodness and vitamins.
Plan Ahead
I'm Latina. Why do I mention this? Well, because my family, and many in our cultura, cook as if they are feeding a small army. Although this just caused them, and me, to eat more than I should when I was younger, I'm now appreciating the fact that I DO cook in abundance, but not for the reason you may think.  
I meal plan, divide the food into healthy portions and freeze until needed.  
On Saturdays, I plan my meals around the supermarket circular to save money and time. Example: If ground turkey is on sale, I will meal plan with ground turkey.  A sample ground turkey meal planning menu can include lasagna, spaghetti and meatballs, hamburgers, chili with rice, turkey empanadas and arroz charfa. By meal planning and creating my week's meals with supermarket sale items, I save time and money, while also removing any inducements to buy fast food on the way home from work.
Buy In Season
My sons love apples! Thankfully, we're in the season for it so I'm able to purchase them for a steal.  I can juice, puree, mash, bake and boil apples to my heart's content, freezing and storing what I don't need at the moment. Doing this saves me money. It's also makes cooking easier! Not sure what to make on a Saturday? Make apple pancakes! In the mood for a tasty thirst quencher? An apple smoothie will hit the spot! Trying to figure out how to decorate for a romantic dinner? Set candles in an apple – not only will it look great, it'll have your place smelling divine!
Ultimately, buying in season cuts expenses by reducing the shipping costs markets pay to have these vegetables and fruits delivered.  To find out what is in season in your area, click to open the Sustainable Table's Seasonal Food Guide and enter your state and the season.
Btw, the Greatist has a great list of what you can do with your extra apples, including recipes, drinks and non-edible options (very cool!). Also, check out this delish recipe for Chocolate Chip Pumkin Loaf Cake from our very own Elyssa - perfect for the holidays!
Meatless Meals
My family loves meatless meals! In the beginning, we only had one meatless meal per week. However, now we enjoy at two-three meatless meals a week.  This is great because meat is our most expensive purchase at the market. By eliminating two to three meat meals, we save a minimum of $10-$15 per week, multiply that by the number of weeks in a month, and we're saving at least $40-60 a month!
Not sure what to make? Below are several meals that are meatless, inexpensive and easy to make!
Meat and Poultry
I save money on meat and poultry by purchasing meat near or on its sell date. These meats are marked as "Manager's Specials" and tend to be one or two dollars less than the original price. If your store does not offer "Manager's Specials" and you see meat at or near the sell date, speak to a manager. Meats are removed from shelves when they hit the sell date, at a loss to the store.  This loss is your gain so haggle, haggle, haggle. 
Worried about purchasing meat that is on, or near, the sell date? According to Jackie Keller, a certified provider of food safety training for the County of Los Angeles Department of Health, "Any frozen ground meat should be used within three months; pork holds for six months; and beef, lamb, veal and venison last eight to 12 months…" Read the full article, Do Food Expiration Dates Matter?, on Woman's Day.
Shop the Perimeter
As a teen in Puerto Rico, I worked at a local supermarket. While working there, I saw how supermarkets entice you to shop and spend.  The perimeter of the supermarket is always the healthiest and cheapest.  While the front of the cash register is set up for impulse buys, as are the front of aisles. To save, steer away from these areas and try to shop from the perimeter.  
Farmer's Market
I love the Farmer's Market! They come to my neighborhood once a week and offer garden-fresh fruits and veggies, as well as fresh cage free chicken eggs. YUM! Whenever I mention this to others in the neighborhood, they tell me it's too expensive. And, that's when I whip out my coupons - again, I'm a coupon girl and I say that proudly!
I discovered that I could download coupons for my local Farmer's Market online. Click to check for coupons in your area. Even if coupons are not offered in your area, here are three reasons to consider a Farmer's Market: (1) garden fresh fruits and veggies, (2) you can haggle and (3) you can join their CSA for extra savings! Not sure what a CSA is? Read on!
Community Supported Agriculture ("CSA")
A CSA is a life-saver for city residents like me. It gives residents in the area direct access to fresh produce that are grown locally by local farmers. When you join a CSA, you receive vegetables, fruits and sometimes fresh cage free eggs. The variety of fruits and vegetables given are in season and vary per farmer.  The quantity of items given per share is established beforehand.  Most offer half shares or whole shares and can be purchased on a weekly or monthly basis. Depending on the farmer and your location, purchased shares can be delivered to a pickup location, your home, a church or a school.
Many of the farmers at your local Farmer's Market participate in a CSA. Not sure if they? Ask them. You can also search online by inputting CSA and your location into Google. If, however, you find that none exists in your area, start one! Reach out to friends, neighbors, and parents, in your local school or church, to gauge interest in a CSA and then approach a local farm.  If you can provide numbers, including how many are interested, how much you would purchase per season and show them how this would benefit them as farmers, they are more apt to work with you on pricing. Who knows? You may be able to get it at a reduced rate since you started the CSA!
Let's talk! Do you have any suggestions on how to save on groceries?  Let us know in a comment!
Photo Credits: