STATEMENT OF KRISTIN ROWE-FINKBEINER, CEO and Executive Director, MomsRising.org, On Boomer Esiason and Craig Carton's Comments on Paternity Leave
Sports Radio DJs Strike Out with Discrimination Against Dads; Moms Call Foul Over Sexist Remarks about Paternity Leave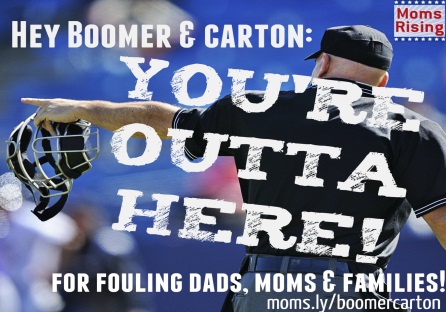 "New York sports radio hosts Craig Carton and Boomer Esiason touched off a firestorm by blasting New York Mets infielder Daniel Murphy for taking a three-day paternity leave for the birth of his son. They even suggested that Murphy's wife, Tori Murphy, have a C-section before the season starts so that he could be at opening day! Separately, radio talk show host and television commentator Mike Francesca also delivered an anti-paternity leave tirade against Murphy.
"There are no better umpires than moms -- and we are making a call on this one. Carton, Esiason, and Francesca all hit foul balls with their negative remarks about paternity leave! In less than 24 hours, nearly 5,000 MomsRising members signed a petition calling for an apology, and today, we are pleased that Esiason took some time to think about what he said and apologized for his insensitive and out-of-touch remarks.
"While we appreciate the apology, we believe that
all of the DJ's should step up
and share their regrets for offensive remarks made about Daniel Murphy's leave and that all involved should use this as an opportunity to provide a forum for an in-depth discussion of paid family leave for all moms and dads around the country.
"Sexist attitudes about paid family leave contribute to – and for some people even justify – the rampant discrimination that mothers face in our nation. More than 80 percent of women have kids by the time they are 44, and three-quarters of moms are in the labor force. Paid leave to take care of new babies, sick family members or to recover from one's own illness should be a basic workplace policy.
"Unfortunately paid family leave is far from the norm in our country. In fact, having a baby is a leading cause of poverty spells. On the flip side, paid family leave gives children a healthy start, and lowers infant mortality by more than 20 percent. It's also good for business – improving productivity, performance, profitability and employee morale, while reducing turnover.
Paid family leave policies are a clear winner. The leaders of 177 nations know that, but the U.S. is not among them. That's as shameful and embarrassing as the remarks made about Mr. Murphy's wife. It's time that Congress joined Mr. Esiason in seeing the light, and passed the FAMILY Act, which could make paid family leave a nationwide reality." 
Media Resources:
1. MomsRising has published a
blog carnival
, or series of blog posts, by dads for paid family leave.
3. "
Deadly Delivery
," a report on maternal and child health by Amnesty USA. 
4. Interviews:Kristin Rowe-Finkbeiner is available for interviews on this issue by request. CONTACT:
Gretchen Wright
or
Kim Hayes
, 202/371-1999.