I Am Voting to Protect My Son's Health, His Professional Goals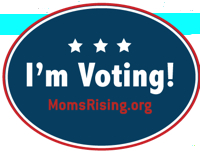 I'm voting because healthcare is more than a campaign talking point for me and my son, Cody.
Cody, now 25 years old, was in college when he was diagnosed with Crohn's Disease. But like many young adults, he held two part-time jobs, neither of which offered insurance and he'd been dropped from my insurance after turning 19. With no health insurance to provide the ongoing treatment needed for his disease, Cody wound up in the emergency room. Once he almost died when a hospital emergency room turned him away because his condition wasn't yet "life threatening."


Today, because of the Affordable Care Act, Cody is back on our family plan and getting the lower-cost treatment he needs to stay out of the emergency room and stay healthy. He's attending graduate school and pursuing his professional goals.


Securing Cody's healthy future is my top reason for voting this November.
Check out why other MomsRising members are voting on our cool interactive map. Don't forget to share your story!