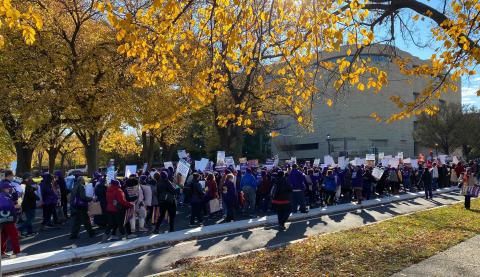 Es hora de cumplir: Build Back Better Now
El martes, nos unimos a la marcha con Service Employees International Union (SEIU), trabajadores de cuidados y defensores que intensificaron su demanda para que el Congreso apruebe Build Back Better esta semana. El trabajo de cuidados abarca todas las etapas de la vida, desde el cuidado de los niños hasta el cuidado de los ancianos, y quienes lo hacen cargan con la carga invisible de asegurarse de que nuestros seres queridos sean atendidos. Merecen la dignidad de un salario justo y quienes necesitan cuidados deben tener acceso a ellos.
A continuación, se muestran algunos momentos memorables del evento:
Here are some memorable moments from the event:
Jose Hernandez gave a powerful testimony as a care consumer on the importance of care workers in his life and the life of many others who depend on home care.
El senador Chuck Schumer habló sobre la importancia de todas y cada una de las partes del proyecto de ley Build Back Better.
"Los legisladores parecen hablar todo el tiempo sobre presupuestos y déficits, y no lo suficiente sobre las formas en que las familias luchan sin la infraestructura de atención que respaldaría nuestro bienestar físico, mental y financiero". -Bobbi Linskens
Inste a su representante a que vote SÍ a Build Back Better.
Llame al 1-855-976-1895 o envíe un mensaje de texto con la palabra YesBBB al 747464