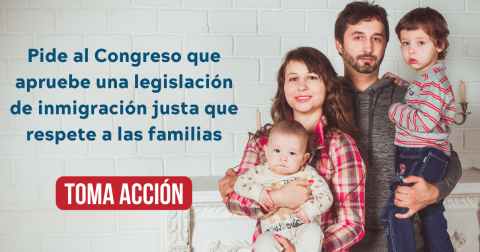 Pide una legislación de inmigración justa y humana
Es hora de restablecer y reconstruir nuestro sistema de inmigración. La buena noticia es que muchos legisladores ya están poniendo manos a la obra. El mes pasado se presentó en el Congreso una legislación que ayudará a sanar nuestra nación y reconstruir nuestro sistema de inmigración en un proceso justo y humano para todas las familias. 

 

Pídele a tus miembros del Congreso que co-patrocinen y aprueben una legislación de inmigración justa y humana

 

¿Qué está pasando? El presidente Biden ya ha firmado varias órdenes ejecutivas [1] para ayudar a restaurar los valores de nuestro país y respetar los derechos humanos básicos de las personas, pero también necesitamos con urgencia una nueva legislación que de protecciones para todos, independientemente del estado migratorio. Cada pieza legislativa nos ayuda a acercarnos al cambio transformador, pero vamos a necesitar el apoyo de ambos partidos para lograrlo.

 

FIRMA AHORA: Pide a los miembros del Congreso aprobar una legislación de imigración que proteja a todas las familias inmigrantes.

Los miembros del Congreso han presentado una serie de leyes de crítica importancia que ayudan colectivamente a proporcionar un camino hacia la ciudadanía para los beneficiarios de DACA, protegen a los trabajadores inmigrantes que han apoyado a nuestra nación a través de la crisis de COVID-19, fortalecen nuestra economía y ofrecen estabilidad a miles de familias que han construido sus vidas en los EE.UU.

Esta legislación incluye: 

- Ley de Ciudadanía Estadounidense (U.S. Citizenship Act)

- Ley de Dream & Promise en la Cámara de Representantes (Dream & Promise Act in the House)

- Ley del Dream Act y SECURE Act en el Senado (Dream Act & SECURE Act in the Senate)

- Ley de Modernización de la Fuerza Laboral Agrícola (Farm Workforce Modernization Act)

- Ley de Ciudadanía para los Trabajadores Esenciales (Citizenship for Essential Workers Act)

 

Estas piezas legislativas también ayudan a erradicar el racismo dentro de nuestro propio sistema de inmigración agregando protecciones para las familias y los inmigrantes negros que tienen más probabilidades de ser detenidos y deportados que otros inmigrantes [2].

 

Necesitamos apoyo bipartidista, así que pídele a cada miembro del Congreso que apruebe una legislación de inmigración justa que proteja a los niños y familias inmigrantes.

 

Juntos somos una voz poderosa para el bienestar de los niños y los padres inmigrantes.