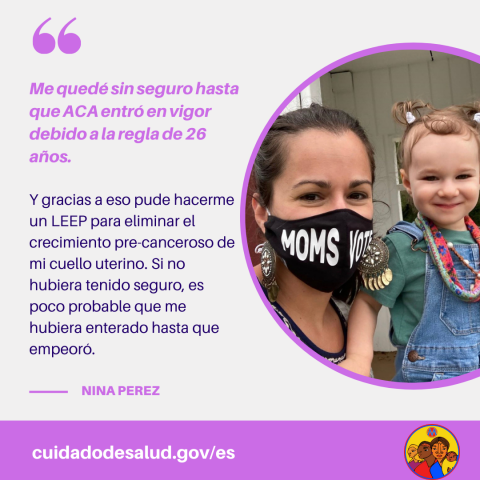 ¡El período de inscripción abierta de ACA ya está aquí!
Frente a una pandemia histórica y sin precedentes, muchos latinos están luchando en múltiples frentes, como cuidar de la familia, trabajar en primera línea o buscar trabajo y poner comida en la mesa. El período de Inscripción Abierta de la Ley de Atención Médica Asequible (ACA) de 2021 brinda a la comunidad latina la oportunidad de inscribirse en una cobertura médica con la tranquilidad de saber de que ellos y su familia están cubiertos.
El período de inscripción abierta empezó el 1 de noviembre y va hasta el 15 de diciembre. 
Visite cuidadodesalud.gov/es para ver si es elegible o si necesita explorar las opciones de cobertura,
Visite aquí para obtener ayuda virtual con su inscripción o llame al número (800) 318-2596.
Para comparar un plan de salud, visite healthcare.gov o cuidadodesalud.gov/es. Una vez que esté en el sitio, puede poner su código postal para ver la lista de los planes que están disponibles en su área.
The Affordable Care Act is the law of the land! Millones de estadounidenses, incluyendo cuatro millones de adultos y 600,000 niños latinos, han ganado cobertura de salud, de calidad, asequible y accesible. Debemos aprovechar todas las oportunidades para obtener la cobertura médica que necesitamos para mantener a nuestras familias saludables y seguras. 
Todos merecemos tener acceso a una cobertura de salud asequible y de calidad para poder vivir una vida sana.