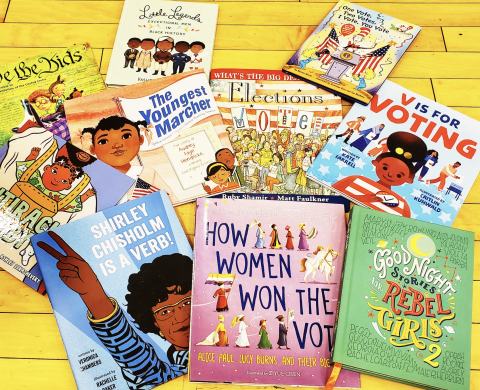 Libros para criar votantes, defensores, activistas, futuros presidentes
Los padres de familia sabemos que a veces es difícil encontrar formas creativas y apropiadas para la edad de nuestros hijos que nos permitan hablar con ellos de justicia social y de toda la incertidumbre que existe en el mundo. 
Encontrar material de calidad para promover la participación de nuestros hijos en activismo, en las elecciones y en otros temas relacionados con la justicia social puede ser abrumador e intimidante, especialmente si no estamos seguros de dónde y cómo comenzar.
¡Muchos de nosotros no crecimos con libros apropiados que nos explicaran qué es el colegio electoral, el proceso de votar o incluso quién puede votar! Por suerte tenemos el poder de cambiar esta situación con nuestros propios hijos. 
¡Creemos que ha llegado el momento de crear una lista de libros que podemos compartir con niños de todas las edades!
Durante esta temporada electoral, mientras vemos más anuncios de los candidatos y de las elecciones, más niños están prestando atención a las conversaciones de sus padres porque todos estamos participando en algún tipo de aprendizaje a distancia en el hogar. ¿Por qué no cambiar un poco el plan de estudios para incluir unos cuantos libros nuevos que traten de temas que puede que no conozcamos a la perfección y que pueden ayudar a nuestros hijos a aprender más que solo los "libros recomendados"? 
Le preguntamos a nuestro personal si conocían algún libro que podían recomendar … ¡y con su ayuda creamos una larga lista!
Duck for President (Pato para Presidente) de Doreen Cronin es uno de los libros favoritos de quienes tienen hijos en la escuela primaria, mientras que A is for Activist (A para Activista) es un buen punto para comenzar con los niños más pequeños.
Nuestra vicepresidente sénior de Justicia Laboral nos dijo que el libro Grace for President (Grace para presidente) es uno de los favoritos de sus hijas, "Nos encanta Grace for President. Nos encanta porque ayuda a explicar qué es el colegio electoral, porque habla de campañas políticas y de no rendirse, del mensaje y, por supuesto, porque se trata de una niña que se postula y gana".  
¡Podemos definitivamente apoyar este sentimiento!
Abajo encontrarás una lista de algunos de nuestros libros favoritos. ¡No olvides volver a visitarla de vez en cuando ya que esta lista sigue creciendo!
Marley Dias Gets it Done por Marley Dias

Duck for President (Pato para Presidente) por Doreen Cronin

Grace For President por Kelly DiPucchio y LeUyen Pham

Ruby Mae Has Something To Say por David Small 

Goodnight Stories for Rebel Girls (Cuentos de Buenas Noches para Niñas Rebeldes)

A is for Activist (A para Activista) por Innosanto Nagara

V is for Voting por Kate Farrell

The Youngest Marcher por Cynthia Levenson 

Serie Citizen Baby por  Megan E. Bryant  y Daniel Prosterman 

March (una trilogía de libros de historietas) por John Lewis 

Be Bold Be Brave! 11 Latinas Who Made U.S. History (¡Sé Audaz, Sé Valiente! 11 latinas que hicieron historia en Estados Unidos) 

Juana Inés por Georgina Lazaro

Click Clack Moo Cows That Type (Clic, Clac, Muu Vacas Escritoras) por Doreen Cronin
¡Esta lista no incluye todos los libros disponibles y siempre estamos descubriendo nuevos libros que nos recomiendan nuestro personal y nuestros miembros!
¡Esperamos que encuentres esta lista útil y que nos cuentes qué libros tienes o cuáles piensas añadir a tu biblioteca!
¡Feliz lectura!