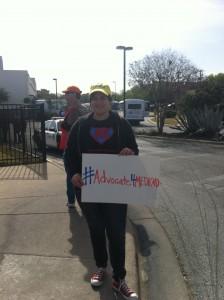 Medicaid de Texas Importa
To read this blog post in English, click here. 
Ayer, me uní a miles de otros Tejanos para marchar en el Capitolio y enviar el mensaje de que el Medicaid de Texas importa. La marcha, la coalición y las visitas legislativas organizadas por Texas Well and Healthy unieron a las personas de todas partes de Texas para compartir lo que significa la cobertura de salud de Medicaid – o lo que significaría – a sus familias y nuestro estado.
Los legisladores de Texas están decidiendo ahora mismo si el estado aceptará mil millones de dólares en fondos federales que permitirán que 1,5 millones de Tejanos sin seguro tengan la cobertura de salud que necesitan. La expansión de Medicaid que hará que esto sea posible también traerá a Texas un estimado de $6 mil millones en beneficios económicos anuales y muchos empleos en el sector de cuidado de la salud.
La legislación de Texas y el Gobernador están arrastrando sus pies para aceptar la expansión, inclusive mientras gobernadores vecinos en Florida, Nuevo México y Arizona están decidiendo si expandir Medicaid es lo correcto.
El mensaje de los constituyentes era claro. Medicaid salva vidas. Tener el mayor número de niños sin seguro está mal. Y expandir Medicaid es un imperativo moral. (¡Con el beneficio añadido de ser grandioso para la Economía!)
Para urgir a los legisladores de Texas a salirse de las líneas laterales y actuar para expandir la cobertura de salud, coloque su nombre en la carta abierta a los legisladores ahora: http://action.momsrising.org/sign/TXMedicaidEx